Stem Cell Biologist John Kessler Argues for Change in Government Policies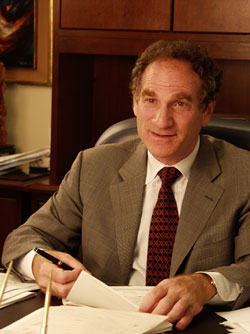 The controversy over stem cell research continues to grab headlines, especially in this presidential election year. For scientists, the field shows great promise for developing treatments and cures for a wide variety of diseases and conditions. For the general public, the field is often confused with the cloning of animals such as Dolly the sheep.
On October 8, John A. Kessler, MD, chair of the Ken and Ruth Davee Department of Neurology and Clinical Neurological Sciences at the Feinberg School of Medicine, spoke on "Stem Cells—What They Are and What They Do," addressing a standing-room-only crowd in Turnbull Auditorium. He described the three types of stem cells: totipotent, which by itself can give rise to an entire embryo; pluripotent, which can give rise to all the cells of all the organs in the body and are commonly known as embryonic stem cells; and multipotent, which can give rise to several different cell types and are commonly known as adult stem cells. A good example of a multipotent stem cell is the bone marrow stem cell, he said, which can give rise to all the elements of the blood. Successful therapies using bone marrow transplantation based on this property have been used for more than 20 years.
Such multipotent cells, however, have limited potential. Embryonic stem cells hold the greatest promise for a wide variety of therapeutic applications because of their pluripotent nature. Creating an embryonic stem cell line starts with a fertilized human egg cell, or oocyte, and "that's where the controversy starts," said Dr. Kessler. It goes through cell division stages—from two to four to eight cells and so on—until it reaches the blastocyst stage after about four days of division. The blastocyst consists of a couple hundred cells and within it is a cluster called the inner cell mass. The inner cell mass is removed, divided into individual cells, and placed into a culture dish. If those cells can be coaxed into continuing to divide as undifferentiated, pluripotent cells, an embryonic stem cell line results. "That sounds very easy; in fact, for human embryonic stem cells, it was exceedingly difficult," said Dr. Kessler, adding that it was first done just six years ago.
The stem cell lines that existed before the ban on their development was imposed by the Bush administration were derived on layers of animal cells that served as "feeders" to promote their continued division as pluripotent cells. These are the only stem cells that scientists in the United States can use in National Institutes of Health–sponsored research, cell lines "even the government now admits totals only 19," Dr. Kessler noted. Because of the animal cell involvement, current Federal Drug Administration rules exclude all of these from use in human beings. "[This is] just the first reason why we have to develop more lines," said Dr. Kessler.
He showed a video clip of beating heart cells derived from embryonic stem cells. "I think it's absolutely impossible not to get excited when you see the possibilities of ultimately regenerating the heart with stem cells," he said. Other regenerative strategies could cure diabetes, repair damaged kidneys, or, in Dr. Kessler's own research, repair the damaged nervous system, including the spinal cord and the brain.
However, to be used for a specific individual, stem cells need to be customized. Similar to organ transplantation, cells that do not match genetically will be rejected by the body's immune system. The problem can be solved through somatic cell nuclear transfer, a way to replace the nucleus of the stem cell with the nucleus of a cell from a particular patient to make a genetically matched stem cell line for therapeutic use. However, the technique is commonly known as "therapeutic cloning" and is controversial because it has been used to clone various animals, including Dolly the sheep. Dr. Kessler said, "Every real stem cell biologist has no interest in doing reproductive cloning. Make that illegal. That's no problem. Just don't stop us from doing this, because this technique will allow us to generate designer stem cells that could be used to regenerate faulty organs."
Right now, several hundred thousand frozen blastocysts exist at in vitro fertilization clinics all around the country, left over from in vitro procedures. These could be used to generate new stem cell lines. "It's impossible to believe that it's morally and ethically superior to throw these in the trash rather than use them potentially to save human lives and alleviate human disease," said Dr. Kessler. "These will never be used for anything. They will either decay or be thrown away."
Government policies have to change, he said. He mentioned that a federal bill has been considered that would make somatic cell nuclear transfer a felony, punishable by 10 years in jail and a fine of $1 million, and that President Bush said he would sign it. "We cannot allow such extreme positions to rule the day," Dr. Kessler stated. "Stem cell biology promises to revolutionize the practice of medicine." He urged members of the audience to contact their elected representatives.