Student Orientation Week Held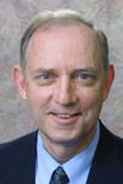 Starting Monday, August 23, the Feinberg School of Medicine welcomed the Class of 2008 with an array of activities during Orientation Week. Students were introduced to the curriculum and learned about financial aid, professionalism, and student organizations, as well as received basic life support training. Social events included an evening at the Second City comedy club, a Wendella sightseeing boat tour, and dinners with faculty members.
The week culminated with the Founders' Day Convocation on Friday afternoon, the official opening of the academic year. The keynote speaker at the ceremony was Robert O. Bonow, MD (pictured above), Max and Lilly Goldberg Professor of Cardiology and chief of the cardiology division at the Feinberg School. Dr. Bonow is immediate past-president of the American Heart Association and recognized for his research and teaching in a variety of cardiac diseases, including coronary artery disease, valvular heart disease, and heart failure. He spoke on "Careers in Medicine: Confronting the Epidemics of the 21st Century."
The master of ceremonies at the event was Lewis Landsberg,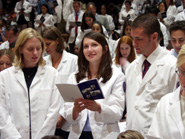 MD, dean of the Feinberg School of Medicine and vice president of medical affairs at Northwestern University. Raymond H. Curry, MD, executive associate dean for education at the Feinberg School, also offered remarks. Jessica R. Levi, president of the medical school Student Senate and a member of the Class of 2006, led the White Coat Ceremony, in which the new first-year medical students received their white coats from the second-year students, signifying their status as members of the Feinberg School Class of 2008.
The Founders' Day Convocation was followed by two receptions for new students and their families: one sponsored by the Office of Alumni Relations and another sponsored by the Office of Minority and Cultural Affairs, Student National Medical Association, and Latino Cultural Medical Association.