July 7, 2004
Nuzzarello Heads Office of Student Programs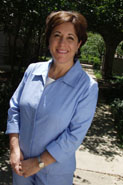 Angela Nuzzarello, MD, MHPE, has been appointed associate dean for student programs and professional development at the Feinberg School of Medicine. She succeeds Jack F. Snarr, PhD '67, who retired earlier this month after 29 years as head of the Office of Student Affairs. Dr. Nuzzarello took the reins of the renamed Office of Student Programs and Professional Development this month.
In announcing Dr. Nuzzarello's appointment, Dean Lewis Landsberg, MD, remarked, "Dr. Nuzzarello has been among the most prominent and effective medical educators at Northwestern for the last decade."
Assistant professor of psychiatry and behavioral sciences and formerly assistant dean for professional development, Dr. Nuzzarello joined Northwestern in 1993. She earned her MD degree from the University of Health Sciences/Chicago Medical School in 1986 and completed psychiatry residency at what is now Rush University Medical Center. From 1990–93 Dr. Nuzzarello was on faculty at the University of Illinois College of Medicine in Peoria. In 2003 she received a master's degree in health professions education from the University of Illinois College of Medicine at Chicago.
Dr. Nuzzarello has won numerous teaching awards, including a Dean's Award for Teaching Excellence and four Outstanding Basic Science Teacher awards, for which she was selected by medical students. Her publications focus on anxiety disorders, her area of clinical interest, and medical education.
"As associate dean, one of my top priorities is maintaining a welcoming environment where students feel both comfortable discussing their concerns and confident that their concerns will be addressed," says Dr. Nuzzarello. Approximately 700 medical students are enrolled at the Feinberg School.
"Feinberg School leadership is committed to making the medical school experience as positive and fruitful as possible for students," she notes. To this end three student-support positions have been added to the office: director of academic and career counseling, coordinator for student activities, and coordinator for student support services.
Just a few days into her new role, Dr. Nuzzarello says, "I enjoy being the 'point person' for medical students, and just being around them is invigorating."