Orthopaedics Faculty Member to Join NASA's Newest Astronaut Class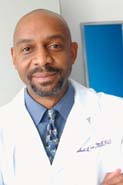 Robert L. Satcher, MD, PhD, assistant professor of orthopaedic surgery at the Feinberg School of Medicine, describes himself as part scientist, part explorer, and part humanitarian. As a member of NASA's newest class of astronaut candidates, the 38-year-old says he can now fulfill all three ambitions at once.
Chosen from a field of about 2,000 applicants including pilots, engineers, and educators, the 2004 astronaut class of 11 people was announced May 6 as part of the Space Day celebration at the National Air and Space Museum in Chantilly, Virginia. Speakers at the event included NASA administrator Sean O'Keefe and former Senator John Glenn.
Dr. Satcher joined Northwestern in 2001 and quickly established a reputation for excellence in his academic and clinical commitments, according to Michael F. Schafer, MD, Edwin W. Ryerson Professor of Orthopaedic Surgery and chair of the Department of Orthopaedic Surgery. "Our department has been honored to have this man lead our Division of Musculoskeletal Oncology," he says. "Dr. Satcher is an outstanding researcher, educator, and clinician. NASA's and the country's gain is the department's loss."
A specialist in child and adult bone cancer, Dr. Satcher is also a researcher at the Robert H. Lurie Comprehensive Cancer Center of Northwestern University and the Institute for Bioengineering and Nanoscience in Advanced Medicine (IBNAM). Additionally, he is on the attending staffs at Northwestern Memorial and Children's Memorial Hospitals. Currently, he is leading research on why tumors metastasize to the bone, working to develop bone substitutes for use in cancer patients, and investigating new drugs for the treatment of bone cancer.
NASA's plan over the next few years is to finish assembly of the International Space Station so that it can be fully used as a research lab. One important area of research is focused on understanding the effects of long-duration space flight on humans, which is critical for building a base on the moon and traveling to Mars. Questions in this research area focus on bone and muscle degeneration.
"One of the big problems with going into space is bone loss due to the microgravity environment," Dr. Satcher says. "If we're going to make trips to space that last several months, we need to discover ways to preserve bone mass for when people return to Earth and face gravity."
Dr. Satcher's specialized experience has prepared him for this endeavor. He is one of a small group of surgeons in the country with expertise in limb salvage surgery, which allows only the cancerous part of the bone to be removed and replaced by a bone graft or metal or plastic endoprosthesis.
Says Dr. Schafer, "Orthopaedic oncology requires a unique discipline that blends the biological sciences with the mechanical sciences. Dr. Satcher will be able to build on the foundation of previous investigations of weightlessness and add an entirely different perspective."
Dr. Satcher cites his experience at Northwestern as invaluable toward his preparation to become an astronaut. In particular, he points to his work with Samuel I. Stupp, PhD, Board of Trustees Professor of Materials Science, Chemistry and Medicine, and director of IBNAM, which incorporates a molecular-level approach to recreating bone environment and engineering molecules that mimic bone matrix. "I can't think of many other places where I would have been able to do this research," he says. "Dr. Stupp has been a mentor to me."
As a member of the 2004 astronaut class, Dr. Satcher will begin training this summer at NASA's Johnson Space Center in Houston. He is one of two physicians in the class. Once the astronaut candidate class completes a year of training, he and the other astronauts are eligible to be assigned to a mission. Dr. Satcher is not the first physician with a Northwestern connection to be affiliated with NASA's space exploration program. In 1973 Northwestern medical graduate Joseph Kerwin, MD '57, was the first physician in outer space, serving on the Sky Lab mission.
"So much technology that we have today can be traced back to things that were designed for space, and so many inventions and treatments that we use in medicine have in similar ways come about because of exploration," Dr. Satcher says. "Space represents one of the final places where the potential exists for so much more to be discovered."
Dr. Satcher, who is a nephew of former U.S. Surgeon General David Satcher, MD, PhD, lives in Oak Park, Illinois, with wife D'Juanna White-Satcher, MD, a pediatrician at the University of Chicago, and their infant daughter.