April 9, 2004
RIC Delivers Revolutionary Wheelchair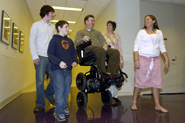 The Rehabilitation Institute of Chicago (RIC) has become one of the first U.S. distributors of a power wheelchair that can climb and descend stairs; traverse sand, gravel, and grass; navigate over 4-inch curbs; and rise on two wheels.
Mike D'Arcy of Plainfield, Illinois (shown here with his family), received the first Independence iBOT Mobility System from RIC and demonstrated it at a press conference on Friday, April 2. "While iBOT's ability to climb stairs is second to none," D'Arcy said, "I really appreciate the ability to look people in the eye. It makes a huge difference in outlook."
Recently approved by the FDA, the iBOT system offers new independence to wheelchair users—vertically and horizontally. Balancing on two wheels, the iBOT systems allows users to reach what were once out-of-reach shelves or make eye contact with individuals who are standing. The iBOT system is priced at $29,000, although RIC officials are working with insurance companies to cover part of the cost.