Longtime Leader of Student Affairs Office to Step Down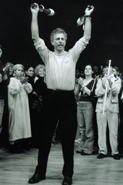 Compassionate. Understanding. Leader. Friend. Advocate. Words like these pepper conversations about Jack F. Snarr, PhD '67, associate dean for student programs, who will be stepping down July 1 after 28 years in the position.
What students and graduates see as special in Dr. Snarr is simply the way he relates to them. "I don't see it as a parent-child relationship as much as a collegial one," he explains. "We feed off of each other's energy and imagination."
"Dr. Snarr has been the constant," says fourth-year student David A. Sasso of Indianapolis. "He was especially supportive when I was making the decision to switch from the MD/PhD program to the MD/MPH program and helped me organize my classes to get the course work done in time. I was also surprised by his support for my taking time to write a children's opera. If anything, he was excited about it. He's really in tune with the different directions life can go."
Recalls Yvette M. Cua, MD '94, GME '97, of Atlanta, "Dean Snarr put time into helping us individually and getting to know us, including details about our families and relationships. You could tell he genuinely cared about each of us as a person, not just 'another student.'"
People's pleasant memories go back to when Dr. Snarr first took the job. Edward S. Traisman, MD '81, was in one of the first classes that Dr. Snarr worked with. "Although it was a long time ago," he says, "this is still true of him today—he was always calm, even during the high-anxiety transitions into clerkships and then residencies. He didn't get flustered by it and made it out like it wasn't such a daunting task. He was so sure of himself and in command of what needed to get done that as students we were put at ease during a difficult time early in our careers."
Dr. Snarr joined Northwestern in 1962 after earning an MS degree in bioengineering at the Drexel Institute of Technology in Philadelphia. In 1967 he completed his PhD degree in physiology and was hired to teach physiology to dental, medical, nursing, physical therapy, and graduate students. Beginning his current post eight years later, he found the job didn't come with an instruction booklet. "It was learn by doing," he recalls. "I had a rough idea of what needed to happen when. If I didn't quite know how to go about it, I'd figure it out. It seems like it's a long way from engineering, which was basically problem solving, but this also is problem solving, although of quite a different nature."
Students focus on the good Dr. Snarr has done, whether it be starting a juggling club, the Jugulars, or supporting fledgling student groups. Stories abound of Dr. Snarr going far beyond the call of duty. For Dr. Cua, he found a way to stay in medical school when costs exceeded her means. "I didn't have good financial support and wasn't eligible for some of the more common loans," Dr. Cua explains. "I thought I was going to have to withdraw for lack of funds. Not only did Dr. Snarr keep reassuring me that things would work out, but he also took an instrumental role, as well as the alumni office, in securing loans and acting as one of the guarantors for those loans."
Although most people wouldn't guess it by looking at the trim, athletic man, Dr. Snarr is 65. Most of today's students weren't born when he switched from physiology to student programs. He has advised the children of medical school graduates. "I don't think any grandchildren have enrolled yet," he chuckles.
Dr. Snarr will see off the Class of 2004 at graduation, then comes retirement. And he's ready for it. "There are some things I want to do while I still have the body and mind left to do them," he says. His interests include canoeing, ornithology, and traveling, including trips to South America where daughter Alison has lived for several years.
No matter what he does, it's unlikely he'll stop interacting with Northwestern medical graduates. "Having worked with close to 5,000 graduates, it's going to be hard avoiding them," he says with a wry grin. "I once ran into the sister of a graduate in the airport in Quito, Ecuador."
For the person who will follow in his footprints, psychiatrist Angela Nuzzarello, MD, MHPE, assistant dean for professional development, Dr. Snarr has a few words of wisdom. "Get to know the students and be comfortable with them. Get to know the faculty too," he says. "That helps when trying to get things done. Always be alert for new and better ways of doing things and new opportunities for students to get involved." Treating students as colleagues also goes a long way, he adds.
Dr. Snarr's personal touches won't be forgotten. Says Sasso, "I'm just always amused that the first thing I learned at medical school was how to juggle and the person who taught me was the associate dean of student programs. Dean Snarr's a great guy with many fascinating interests."
Now it's simply time to pursue those other interests.
(Excerpted from an article appearing in Ward Rounds, Spring 2004 issue.)