CARDIA Marks 20th Year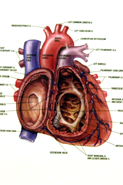 They say youth is often wasted on the young. Yet, when it comes to reducing coronary heart disease, it is the young who may have the most to gain from following healthy lifestyles starting in their youth, according to findings of the Coronary Artery Risk Development in Young Adults (CARDIA) study.
A collaborative longitudinal study of lifestyle and evolution of cardiovascular disease factors in young adults, CARDIA was launched in 1983. Sponsored by the National Heart, Lung, and Blood Institute (NHLBI), the study recruited 18- to 30-year-old participants in four centers: Chicago; Minneapolis; Birmingham, Alabama; and Oakland, California. Starting with 5,115 men and women, CARDIA researchers have conducted physical exams and collected health information on these subjects in two- and three-year intervals since June 1985. In December, the often referenced CARDIA study achieved a major milestone by celebrating its 20th anniversary as well as another five-year renewal grant from the NHLBI.
"We began with the premise that a healthy profile was good for your heart and the prevention of disease," says Kiang J. Liu, PhD, professor of preventive medicine at the Feinberg School of Medicine and principal investigator of CARDIA's Chicago field center, "but for the first time, we now have really strong data that show that maintaining a healthy lifestyle through young adulthood could influence one's health in middle age."
While lifestyle factors such as healthy diet and body weight, regular exercise, nonsmoking, and moderate alcohol intake have been associated with lower coronary artery disease morbidity and mortality, preventive medicine experts had little knowledge of how these factors affected young adults before the CARDIA study. Now that the average CARDIA subject is 44 years old, researchers have collected valuable data demonstrating that healthy behaviors throughout young adulthood can reduce the formation of coronary artery calcium, an early indicator of subclinical atherosclerosis.
With some 200 peer-reviewed publications to its credit, CARDIA has yielded information of great importance to public health policy makers for the prevention of coronary heart disease and, potentially, the reduction of rising health care costs.
"People with better lifestyle profiles tend to live longer and are healthier," says Dr. Liu. "The study has shown so far that prevention of coronary heart disease should begin at young ages. You can't wait until middle age to start worrying about risk factors."