Amy Paller Named Dermatology Chair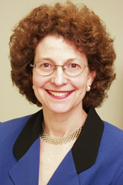 Amy S. Paller, MD, a Northwestern faculty member since 1988, has been named chair of the Department of Dermatology at the Feinberg School of Medicine and Northwestern Memorial Hospital (NMH), effective February 10. In a joint announcement, Lewis Landsberg, MD, Feinberg School dean and vice president for medical affairs, and Dean Harrison, president and CEO of NMH, commented, "We are delighted that Dr. Paller has accepted this important leadership position and look forward to working with her to build a premier Department of Dermatology at Northwestern."
After receiving a BA degree in biology and MS degree in genetics from Brown University, Dr. Paller graduated from Stanford University with an MD degree. She completed residencies in pediatrics and dermatology (serving as chief resident) at Northwestern and was a dermatology research fellow at the University of North Carolina.
In 1988 Dr. Paller joined the Northwestern faculty as associate professor of pediatrics and dermatology and Children's Memorial Hospital (CMH) as head of the dermatology division. She received tenure in 1994 and was promoted to professor in 1996.
Author of more than 200 journal articles and a member of various editorial boards for journals in her field, Dr. Paller is internationally distinguished for research in the growth and differentiation of keratinocytes. Her clinical interests include genetic and immune disorders. In her new role as department chair, she plans to continue her research at CMH and care for patients there as well as at Glenbrook Hospital.
Board certified in dermatology and pediatrics, she has held leadership positions in many professional societies including the American Academy of Dermatology, American Academy of Pediatrics, Society for Investigative Dermatology, and Society for Pediatric Dermatology