NUgene Enrolls 1,000th Participant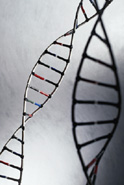 Traditional banks depend on new deposits to grow and expand—a principle that applies to gene banks too. On January 29 Northwestern's NUgene project celebrated the enrollment of its 1,000th participant and the recent completion of its pilot year.
"Since our project launch in October 2002, NUgene has made significant progress," says project director Wendy Wolf, PhD, research assistant professor in the Center for Genetic Medicine. "We had planned to start out slowly in our first year to ensure that we had all the pieces in place. Now we are entering our growth phase."
Sponsored by the Feinberg School of Medicine's Center for Genetic Medicine, NUgene is a large-scale population-based initiative with the aim of advancing genetic research and, ultimately, improving human health and patient care. The project's goal is to collect 100,000 DNA samples and associated health information from volunteers in the Chicago area over five years; NUgene enrolled more than 800 participants in its pilot year.
Recruiting patients from Northwestern affiliates—Northwestern Memorial Hospital, Northwestern Memorial Faculty Foundation, Evanston Northwestern Healthcare, and the Northwestern Memorial Physicians Group—NUgene includes DNA samples from both healthy adult participants and individuals with existing medical conditions. All information in the NUgene study is coded to protect participant confidentiality.
The project also features the capability of updating participants' health status from electronic medical records. In December NUgene began analysis on electronic information containing, for example, physicians' diagnosis codes. Study of more extensive health records will soon follow, according to Dr. Wolf.
"By creating a repository of DNA samples and associated medical record information, we hope to enhance the understanding of the association between genes and common diseases such as stroke and cardiovascular disease and explore the genetic basis of therapeutic susceptibility and efficacy," she explains. "This is the next step in translating information from the completed human genome sequence into knowledge that can improve health care."
Northwestern's NUgene project has made great strides in genetic banking efforts around the world. It joins the Marshfield (Wisconsin) Clinic as one of a handful of such initiatives currently in operation in the United States, according to Dr. Wolf.
For more information about the NUgene project, call 312/695-0700 or visit www.nugene.org .