Health SmartLibrary Brings New Information Management Tools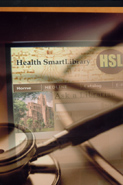 The Galter Health Sciences Library celebrated the launching of its new Web Site, the Health SmartLibrary (HSL), on Thursday, November 20, with hands-on demonstrations, discussions, and more from 10 a.m.– 2 p.m. in the Method Atrium of the Feinberg School of Medicine.
Says library director James Shedlock, AMLS, "The new Health SmartLibrary introduces users to specialized tools that will help them identify and manage health information particular to their interests and needs. These tools include easy ways to customize and personalize Galter information resources so users have the resources most important to them right up front on their own Galter Library Web site."
Other tools include a discipline-specific Current Awareness feature that gives users immediate access to online journal articles; a meta search engine (Quick Search) that helps users identify where a keyword shows up in the Galter collection; and a personal File Cabinet to store links to online information such as journal articles, book chapters, and Web sites. All of these tools can be customized by users.
The HSL (www.galter.northwestern.edu) also features "Ask a Librarian" for quick answers to questions; "In the News," incorporating automatic newsfeeds that report health news as it happens; and a find feature that provides direct access to article abstracts and full text with the article's PubMed ID.
A collaborative project of the Galter Library staff and emergency medicine faculty of the Feinberg School, the HSL is made possible through a grant from the National Library of Medicine.