Chicagoan Takes Pathway to Medicine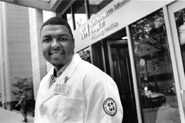 When Alfred J. Cook Jr. graduated with the Feinberg School of Medicine's Class of 2003, he achieved not only a personal milestone but also a major goal of Northwestern's Pathways to Medical Education (PME) initiative. A member of the inaugural group to participate in PME—a program created in 1992 to encourage Chicago-area high school students to seriously consider the world of medicine—the new "Dr." Cook is the first PME participant to earn an MD degree.
Dr. Cook grew up on Chicago's South Side. By the time he entered seventh grade, his love of math and science had piqued his interest in medicine. Dr. Cook seized the opportunity to "test the waters" via the PME program."Growing up I realized that I wanted to make a positive difference in others' lives and intervene on their behalf," he says. "When I put that desire to care for others together with my strengths in math and science, the yield was medicine."
Developed to help recruit and increase the number of underrepresented minority students in medicine and allied health professions, PME provides high school students with early career counseling, mentoring, and peer support. The program exposes participants to different aspects of basic science and clinical care, introduces medical school faculty members, and links students to summer research projects. Most importantly, it provides guidance on the pathway from high school to college to medical school and beyond.
"I knew what direction I wanted to follow, but I needed to learn what I had to do to prepare myself through high school and then college," recalls Dr. Cook. "Through Pathways I discovered how medicine really works." He went on patient rounds and attended workshops and lectures on the various medical specialities. The summer after joining PME and before his junior year of high school, Dr. Cook worked in the laboratory of Teepu Siddique, MD, professor of neurology. Only 15 years old at the time, Dr. Cook started by helping establish a database for the lab.
His familiarity with the medical school through the PME program made Northwestern an obvious choice for his medical education. Starting his residency in orthopaedic surgery at the McGaw Medical Center of Northwestern University in June, Dr. Cook has no doubt that his mentor, James A. Hill, MD, professor of clinical orthopaedic surgery, had something to do with his decision to pursue the specialty. Recalls Dr. Cook, "The first procedure I observed through PME was arthroscopic knee surgery performed by Dr. Hill."
Dr. Cook appears to have made the most of all the PME program offers. "The PME experience opened my eyes," says Dr. Cook. "I gained insight into medicine, developed relationships with future colleagues, and had fun. PME helps foster your hopes and dreams, but it is still up to you how you will use those opportunities to reach your goal."