Five Departments Make NIH Top 20 List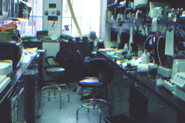 Five departments at the Feinberg School have been ranked among the top 20 by the National Institutes of Health for total NIH funding in 2002.
The Department of Urology, chaired by Anthony J. Schaeffer, MD, Herman L. Kretschmer Professor of Urology, was ranked third among U.S. urology departments, having been awarded 13 research and training grants totaling $4,953,323. The Department of Cell and Molecular Biology, led by Robert D. Goldman, PhD, Stephen Walter Ranson Professor of Cell and Molecular Biology, garnered 35 awards totaling $10,376,074 for ninth place.
Chaired by Elliot J. Roth, MD, the Department of Physical Medicine and Rehabilitation placed 12th among its PM&R competitors with an award totaling $275,006. Ranking 16th nationally in funding, the Department of Preventive Medicine received 15 awards totaling $6,220,604. The department is led by Philip Greenland, MD, Harry W. Dingman Professor of Cardiology. With four awards totaling $874,751, the Department of Dermatology, chaired by John C. Ansel, MD, Walter J. Hamlin Professor of Dermatology, was ranked 17th.
Seven departments were ranked 21–40: microbiology—immunology (21st), otolaryngology—head and neck surgery (23rd), neurology (24th), pathology (25th), molecular pharmacology and biological chemistry (29th), medicine (35th), and obstetrics and gynecology (38th).