Northwestern Welcomes New Residents and Fellows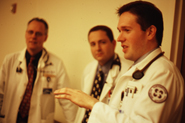 At the McGaw Medical Center of Northwestern University, 250 new residents were welcomed during orientation sessions held at the member hospitals. On June 16, 28 residents began programs (pediatrics, pediatric neurology, and child and adolescent psychiatry) at Children's Memorial Hospital (CMH), located in the Lincoln Park neighborhood of Chicago.
Evanston Northwestern Healthcare (ENH), located in suburban Evanston, Illinois, held its orientation on June 18, welcoming 56 first-year residents: 46 in medicine, 6 in family practice, 2 in pathology, and 2 in general dentistry.
On June 17 Northwestern Memorial Hospital and the Rehabilitation Institute of Chicago, located on Northwestern University's Chicago campus, welcomed 160 residents to various programs.
By July 1 the McGaw hospitals will welcome 81 graduate medical education students (23 at CMH, 3 at ENH, and 55 at NMH) to various fellowship programs.