Quilt Project Commemorates Historic Study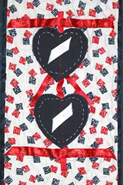 Two quilts commemorating the historic Women's Health Initiative (WHI) have been created by staff members and participants at the Feinberg School of Medicine's WHI clinic on the Northwestern University Chicago campus. Northwestern became involved with the WHI, the largest clinical study ever conducted in the United States, when it was named a vanguard center for the study in 1993.
Grace Carlson-Lund, RN, BSN, clinic manager/clinic practitioner, explains, "The project came out of a staff meeting brainstorming session about how to honor the women who have dedicated 8-12 years to this study. We're always looking for ways to bring something back to them to help them realize what a special thing they're doing."
The quilting project was spearheaded by Shirlee Mohuiddin, WHI health interviewer. Says Carlson-Lund, "Shirlee had experience setting up a wonderful quilt project for the Ovarian Cancer National Alliance. So we invited participants at our clinic to submit squares and asked them to write a brief statement about themselves and what the study meant to them. While most interested participants sent squares, a few also helped put the quilts together. One participant, who is a quilter, asked her mentor, the owner of a quilting supply store, to recruit volunteers to put the squares together."
The results of their handiwork are two quilts that hang in an interview room and the conference room at the Chicago campus WHI clinic. The staff members also submitted photos of the quilts and copies of the personal statements to the Webmaster at the WHI clinical coordinating center at the Fred Hutchinson Cancer Research Center in Seattle for display on the WHI Web site at www.whi.org . Visitors may click on an individual square that takes them to a close-up of the square and the creator's personal statement.