Inaugural Silverstein Lecture to Focus on Genetic Testing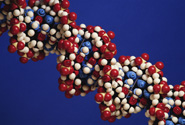 Two specialists on genetic testing will present the inaugural Silverstein Lecture that explores "Genetic Testing: Past, Present, and Future" on Wednesday, December 4, starting at 7:30 p.m. The lecture, free and open to the public, will be held in Northwestern Memorial Hospital's Pritzker Auditorium, located on the third floor of the Feinberg Pavilion, 251 East Huron Street, Chicago. Funding for the lecture series is provided by the Herman M. and Bea L. Silverstein Medical Research Fund for Genetic Medicine.
Elizabeth (Betsy) Gettig , MS, CGC, will speak on "Genetic Testing in Context: History, Technology, and Implications." Gettig is assistant professor of human genetics and director of the Genetic Counseling Program at the University of Pittsburgh. Her research focuses on the process of genetic counseling, genetic education, clinical service delivery, and the role of community service in patient care.
"Integration of Genetic Testing into Medical Practice" will be addressed by Bruce R. Korf, MD, PhD, associate professor of neurology at Brigham and Women's Hospital and Harvard Medical School and medical director of the Harvard Partners' Center for Genetics and Genomics. Dr. Korf's clinical and research interests focus on neurogenetics, particularly the genetic disease neurofibromatosis, and molecular diagnosis of neurogenetic disorders.
The Silverstein Lecture Series, a new initiative of Northwestern University's Center for Genetic Medicine, provides a forum where knowledgeable genetics experts and medical practitioners can inform the general public of major research developments in genetics and their clinical application. Audience members will have ample opportunity to ask the experts questions about genetics. A reception will follow the discussion. For more information, call 312/503-3209.