Medical Students to Present Summer Research Results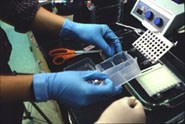 All members of the Northwestern community are invited to the Feinberg School's annual Medical Student Research Day on Thursday, October 31. Medical students will present posters from their summer research projects. These hands-on research experiences provide students with a taste of what it would be like to conduct research, and some eventually make research part of their careers.
Posters will be on display from 9 a.m. to 6 p.m. in the Method Atrium, located at 300 East Superior Street on the Chicago campus. From 4-6 p.m., the medical students will be at their posters to respond to questions and discuss their presentations, and refreshments will be served.
Last year three dozen students showed faculty and staff members and fellow students the results of what they had investigated during the summer.