Pediatrics Faculty Featured in Public Television Series
The patients, families, and physicians of Children's Memorial Hospital (CMH) in Chicago were recently featured in a six-week public television series called "Children's Hospital" that began airing nationally in early July.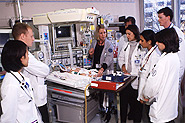 Selected from among several children's hospitals across the country, CMH is a member of the McGaw Medical Center of Northwestern University, and the physicians featured are on the faculty of Northwestern's Feinberg School of Medicine. Filming for the series began in August 2001. The series was a co-production of Oregon Public Broadcasting and Lion Television, an internationally renowned documentary production company based in London, England.
Each of the six episodes focused on a theme, including medical decision making, pioneering therapies, societal problems that result in injury to children, and the cost of medical care. For more information about this series, visit www.pbs.org/childrenshospital/ .