Memorial Service Held for Dr. David Hanson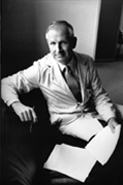 David G. Hanson, MD, chair of otolaryngology—head and neck surgery at The Feinberg School of Medicine from 1989–2000, died July 10 of pancreatic cancer. He was 58. A memorial service was held Monday, July 15, at Fourth Presbyterian Church in Chicago, where he was a deacon.
A native of Seattle, Dr. Hanson earned his MD degree from the University of Washington in Seattle and completed residency in otolaryngology at the University of Minnesota in Minneapolis in 1975. From 1975–78 he was a commander and senior surgeon in the United States Public Health Service, from which he received the Commendation Medal for "sustained high-quality performance." During the same period, he was a staff scientist for the National Institute of Neurological and Communicative Disorders and Stroke of the National Institutes of Health (NIH).
In 1978 Dr. Hanson joined the faculty of the University of California at Los Angeles, rising to vice chief of head and neck surgery in 1983. At UCLA he developed a strong clinical practice and research program that included an NIH-funded study of the neuromuscular function of laryngeal structures and objective measures of laryngeal function in various disorders. Dr. Hanson's laryngeal research was continuously funded by the NIH for more than 13 years. He was mid-way through this study when Northwestern recruited him as chair of the Department of Otolaryngology—Head and Neck Surgery in 1989.
As chair, he and the faculty he nurtured advanced Northwestern's reputation in otolaryngology on all fronts. His passion for research never ended. At the same time, his clinical expertise made him highly sought after. His patients included world renown singers of opera, rock, and country music. In recognition of his many contributions to the field, the American Laryngological Association this spring awarded him its Presidential Citation.
A resident of LaPorte, Indiana, and a baritone in his church choir, Dr. Hanson's hobbies included playing piano, sailing, and skiing. He once told a reporter, "I try to deal with everything I approach in life with integrity and honesty." He is survived by wife Terri.