Dr. David Satcher to Address Northwestern Medical Graduates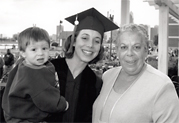 Fomer U.S. Surgeon General David Satcher, MD, PhD, will speak to this year's graduates of Northwestern University's Feinberg School of Medicine during graduation convocation May 24 at Navy Pier. One hundred sixty-nine graduates will receive MD degrees; five of them also will receive PhD degrees, three others MBA degrees, and 11 others MPH degrees.
Dr. Satcher graduated from Morehouse College and Meharry Medical School, where he once served as president. Prior to his appointment as the 16th U.S. Surgeon General by former president Bill Clinton in 1998, Dr. Satcher had been director of the Atlanta-based Centers for Disease Control and Prevention since 1993 and an administrator for the Agency for Toxic Substances and Disease Registry.
The degrees will be conferred by Lewis Landsberg, MD, dean of the Feinberg School and vice president for medical affairs at Northwestern University, and Henry S. Bienen, president of Northwestern University. Assisting Dr. Landsberg in the presentation of diplomas will be Jack F. Snarr, PhD '67, associate dean for students programs; Sharon L. Dooley, MD, associate dean for graduate medical education; and John X. Thomas Jr., PhD, associate dean for educational programs. Also on the stage to offer their congratulations will be the students' Patient, Physician & Society college mentors, Frank Lefevre, MD, associate professor of medicine; Helen G. Martin, MD, assistant professor of clinical medicine; Kathy J. Neely, MD, assistant professor of medicine; and Angela Nuzzarello, MD, assistant professor of psychiatry and behavioral sciences.
The Class of 2002 chose Mitchal A. Schreiner of Ogallala, Nebraska, to deliver the senior class message. David Kyllo, chaplain at the Rehabilitation Institute of Chicago, will deliver the invocation.
Admission to the graduation convocation is by ticket only. For more information, call 312/503-4070.