This was originally published in August 2022 Breakthroughs.
Northwestern Memorial Hospital was recently ranked seventh in the country for Gastroenterology & Gastrointestinal (GI) surgery by U.S. News and World Report — a ranking that recognizes just how much Feinberg physician-scientists are leading the way in translational research that addresses both the physical and mental symptoms of GI disorders.
Understanding psychosocial effects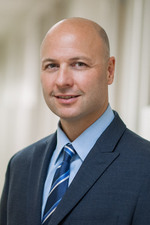 According to a Northwestern Medicine study published in Gastroenterology, measuring levels of symptom-specific anxiety may improve the understanding of patient outcomes for severe esophageal diseases. John Pandolfino, MD, '94 '96 '01 GME, the Hans Popper Professor and chief of Gastroenterology and Hepatology in the Department of Medicine, was senior author of the study. Tiffany Taft, PsyD, research assistant professor of Medicine in the Division of Gastroenterology and Hepatology, of Medical Social Sciences and of Psychiatry and Behavioral Sciences, was lead author of the study.
The study focused on eosinophilic esophagitis (EOE), which is a chronic inflammatory disease caused by excess buildup of white blood cells in the esophagus. This buildup is induced by an allergic reaction from foods such as dairy or wheat, causing the esophagus to narrow and become inflamed, making it difficult to breathe or swallow.
"What we found in these 100 patients was that the biggest driver of their quality of life was really the hypervigilance and symptom anxiety," Pandolfino said.
The psychosocial effects for patients with EOE have been understudied. These effects include hypervigilance — a heightened focus on physical symptoms — and symptom specific anxiety such as a fear of choking, both of which have been associated with worse reported EOE symptoms and quality of life.
Listen to an episode of the Breakthroughs Podcast on this research:

"Hypervigilance is really a central brain focus on the particular symptom where it becomes the focus of your attention consciously and you're constantly thinking about your esophagus, and that really generates that symptom-specific anxiety. If you can break that thought process, you can improve the patient's quality of life," Pandolfino said.
For next steps, Pandolfino and Taft are studying the efficacy of psychological behavioral treatments to target hypervigilance and symptom-specific anxiety in patients with different esophageal diseases.
"Northwestern has been a pioneer in operationalizing treatment strategies for disorders of gut brain interaction and we are fortunate to have partners in behavioral medicine embedded in the division. It is this aspect that has always made Northwestern unique amongst other academic medical centers," Pandolfino said.
Identifying GI conditions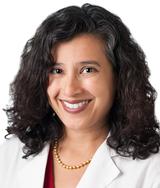 Nirmala Gonsalves, MD, professor of Gastroenterology and Hepatology in the Department of Medicine, is the site principal investigator of the U54 grant, "Consortium of Eosinophilic Gastrointestinal Disease Researchers" (CEGIR) funded by the National Institutes of Health and led by the National Center for Advancing Translational Sciences (NCATS) through its Division of Rare Diseases Research Innovation.
As part of the CEGIR, Gonsalves was a co-author on a study published in Gastroenterology that established eosinophilic colitis (EOC) as a distinct disease requiring improved diagnosis and treatment. The study included sample collections from across the U.S. and data acquisition from colonic biopsies from participants with EOC, controls and participants with Crohn's disease.
What the investigators found was a conserved colonic transcriptome in patients with EOC, which is markedly distinct from other GI diseases and uniquely associated with mechanistic processes separate from other eosinophilic gastrointestinal disorders.
"This is the one of the first studies that has done such a deep dive into this type of condition," Gonsalves said. In addition to her work with CEGIR, Gonsalves has worked on establishing a common nomenclature around eosinophilic GI disorders with an international group of investigators that developed the International Consensus Recommendations for Eosinophilic Gastrointestinal Disease Nomenclature, which is important to improving research and clinical care.
"At Northwestern, we are internationally recognized as one of the leaders for eosinophilic gastrointestinal disorders and are involved in collaboration and development of clinical trials, which allows us to elevate our care," Gonsalves said.
Developing better treatments
Collaborating on clinical trials is key to developing new treatments and offering more options for patients with inflammatory bowel disease (IBD). Stephen Hanauer, MD, the Clifford Joseph Barborka Professor, was a co-author of a study published in The New England Journal of Medicine, which identified a new drug that improved management of ulcerative colitis.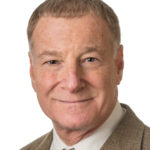 Ulcerative colitis is a type of IBD, characterized by inflammation and sores in the innermost lining of the colon and rectum. Patients in the study treated with ozanimod, a sphongosine 1 phosphate receptor modulator that prevents inflammation, experienced a higher rate of remission compared to patients who received a placebo.
"It 'traps' lymphocytes in lymph nodes so they are unable to get into the colon to cause tissue damage," Hanauer said.
Ozanimod has been approved by the Food and Drug Administration for use in multiple sclerosis and now moderateto-severe ulcerative colitis. It is also being tested for use in Crohn's disease (CD).
Another study published in The Lancet, of which Hanauer was also a co-author, found that two new treatments for CD, adalimunmab and ustekinumab, showed roughly equal performance in a clinical trial.
CD is a chronic, progressive inflammatory bowel disease, causing abdominal pain, weight loss and fatigue. Treatment for CD has typically focused on alleviating symptoms to achieve clinical remission using corticosteroids or immunomodulators, but a need for more effective treatment remains, according to Hanauer.
These new treatments allow clinicians and patients to make treatment choices based on tolerance. Adalimumab is a monoclonal antibody that reduces inflammatory cytokines by inhibiting the cytokine tumor necrosis factor alpha. Ustekinumab is another monoclonal antibody, though the drug targets a different set of proteins: interleukin 12 and interleukin 23.
"While there are numerous therapies and mechanisms of action for drugs approved for moderate-severe CD, there has been a therapeutic ceiling as far as outcomes are concerned, with usually less than 50 percent of patients in long-term remission," Hanauer said.
Will Doss and Melissa Rohman contributed to this article.