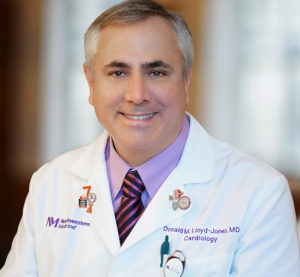 Donald Lloyd-Jones, MD, ScM, chair of Preventive Medicine and the Eileen M. Foell Professor of Heart Research, and current president of the American Heart Association (AHA), recently testified before Congress on behalf of the AHA in support of legislation that would improve cardiovascular health in the U.S.
On October 20, Lloyd-Jones testified virtually before members of the U.S. House Energy and Commerce Committee's Health Subcommittee in support of two bipartisan bills currently under consideration: the Increasing Access to Quality Cardiac Rehabilitation Care Act of 2021 (H.R. 1956) and the Cardiovascular Advances in Research and Opportunities Legacy (CAROL) Act (H.R. 1193).
Sponsored by Rep. Lisa Blunt Rochester, D-Del., the Increasing Access to Quality Cardiac Rehabilitation Care Act of 2021 would expand patient access to cardiac rehabilitation services – medically supervised programming that helps patients who have experienced a serious cardiac event or surgery recover more quickly and ultimately pursue more active and healthier lifestyles.
The bill would expand which healthcare providers can refer patients to these services and remove the requirement of having a licensed physician be onsite during these programs.
"Ideally, this will increase the number of programs in underserved, urban and in rural areas where these programs are few and far between," said Lloyd-Jones, who is also a professor of Preventive Medicine in the Division of Epidemiology, of Medicine in the Division of Cardiology, and of Pediatrics.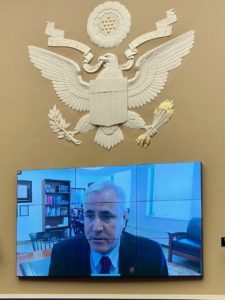 The CAROL Act, sponsored by Rep. Andy Barr, R-Ky., would authorize funding for the National Heart, Lung, and Blood Institute to conduct research on heart valve diseases like mitral valve prolapse, which is present in approximately two percent of the U.S. population. Mitral valve prolapse occurs when the valve between the heart's upper and lower chambers on the left side doesn't seal properly, causing blood to leak backwards into the heart's left atrium.
The bill would also instruct the Centers for Disease Control to increase awareness about heart valve disease, disease screening and detection, and establish a national registry for sudden cardiac death. The bill was created to honor Barr's wife, who passed away at the age of 39 from sudden cardiac death that was apparently due to mitral valve prolapse.
"With the help of many, many people, we can have a big impact, and that's playing out through some of the budget issues where we're trying to rebuild public health infrastructure, and it's playing out through very concrete things that can improve heart health, like these two bills," Lloyd-Jones said.