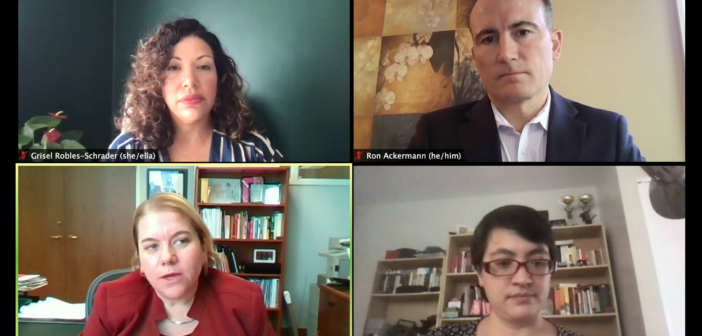 The Institute for Public Health and Medicine (IPHAM) recently hosted a virtual Population Health Forum Seminar featuring the commissioner of the Chicago Department of Public Health (CDPH), Allison Arwady, MD, MPH, who discussed about the city's response to the COVID-19 pandemic and plans for the future.
The seminar was moderated by Ronald Ackermann, MD, MPH, director of IPHAM and senior associate dean for Public Health, and guest panelists Jaline Gerardin, PhD, assistant professor of Preventive Medicine in the Division of Epidemiology, and Grisel Marie Robles-Schrader, MPA, a lecturer in the Department of Preventive Medicine and research portfolio manager for community and stakeholder engagement for the Center for Community Health and the Northwestern University Clinical and Translational Sciences (NUCATS) Institute.
In 2015, Arwady joined CDPH as chief medical officer and in January 2020, was confirmed by the Chicago City Council as commissioner in January 2020.
"It's been a crazy year, but I couldn't be more proud of my team and I couldn't be more proud of Chicago. We have been national leaders in a number of spaces in terms of the collaborative and innovative work that we've done, and I hope that together we will build on this and really work on some of the longer standing public health platforms. We've had this opportunity to raise our public health voice — let's use that, let's push towards policy that want, let's work towards structures that can last," Arwady said.
Arwady highlighted CDPH's challenges and successes over the last year in addressing the COVID-19 pandemic, as well as how to use knowledge gained to better address health inequities in Chicago both now and in the future.
As for the beginning of the pandemic, Arwady said that Chicago's level of preparedness for the pandemic surpassed that of other large U.S. cities.
"We had millions of supplies stockpiled in right here in Chicago, things like masks, gloves, we had ventilators and we had a strong healthcare coalition that had already been built that was used to collaborating around emergencies," Arwady said. "I think the fact that there had been quite a serious focus here on that public health preparedness role paid off in spades. Where I think ahead, it's about what does it mean to invest in that preparedness outside of an emergency, not just funding for COVID-19 response but really making sure we have the baselines in place."
Arwady said CDPH is working to improve putting health equity at the center of the city's response to the pandemic, and noted one way CDPH is addressing this is with the establishment of the Racial Equity Rapid Response Team.
As the U.S. began rolling out its nationwide COVID-19 vaccination effort, Arwady said the city's data-driven Protect Chicago Plus program, in collaboration with community-based organizations and healthcare partners, helped the city identify communities unequally burdened by COVID-19 and where to push vaccination efforts and allocate additional resources.
"There is zero chance that Chicago would be anywhere near where we are today if not for the hundreds and hundreds of organizations that have stepped up across Chicago to say, 'I want to solve this in my neighborhood', 'I want to think with the health department about how to do this differently'," Arwady said.
In terms of vaccinating more individuals from underrepresented communities, Arwady said that Chicago still has "a long way to go" but is making progress. The pandemic also pushed CDPH to modernize its data modeling platforms to ensure COVID-19 information datasets were accurate, easy to understand and available to the public, and that informed decisions could be made in-real time, Arwady said.
In the future, Arwady said CDPH wants to continue to use what they've learned from the pandemic to address other long standing public health issues in the city, such as allocating primary care services in shelters for people experiencing homelessness and hiring additional COVID-19 contact tracers on the city's West Side.
During the second half of the seminar, Ackermann, Gerardin, Robles-Schrader and attendees asked Arwady questions regarding achieving health equity and ensuring accurate data modeling moving forward.
"Something that I am really committed to is that we always have to make a decision based on the best information we have at that time: Talk to others and make sure it's an informed decision, make that decision, own that decision and move on from there. I don't always make the right decision, but I try to own the decision that I make," Arwady said.