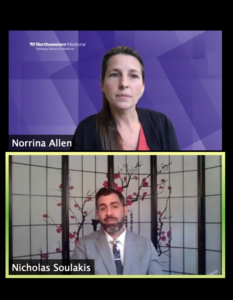 This past March, Nicholas Soulakis, PhD, assistant professor of Preventive Medicine in the Divisions of Health and Biomedical Informatics and Epidemiology, took a leave of absence from the medical school to work as an epidemiologist in the Illinois Department of Public Health (IDPH)'s Office of Health Protection, joining the fight against COVID-19.
For the past seven months, Soulakis has helped develop and grow the COVID-19 contract tracing program at IDPH, helping state officials understand how many Illinoisans have been infected with COVID-19 and track the progression of the outbreak.
During a webinar sponsored by the Institute for Public Health and Medicine (IPHAM) and the Northwestern University Clinical and Translational Sciences (NUCATS) Institute, Soulakis shared details about his experience working with IDPH thus far and discussed the crucial role informatics played in the development and implementation of public health interventions during the pandemic.
"Collaboration is at the core of our institutes' missions, and this monthly lecture series not only highlights the amazing work of our researchers, but also underscores the many ways that NUCATS and IPHAM support the transformative scientific discoveries taking place at Northwestern," says Richard D'Aquila, MD, director of NUCATS, the Howard Taylor Ricketts, MD, Professor of Medicine, and senior associate dean for clinical and translational research.
"We are excited to launch these joint seminars as a means to recognize our synergies and to highlight the impressive work of several individuals and programs that straddle the mission of both institutes," said Ronald Ackermann, MD, MPH, director of IPHAM, senior associate dean for Public Health, professor of Medicine in the Divisions of General Internal Medicine and Geriatrics and Endocrinology, and a professor of Medical Social Sciences.
At Feinberg, Soulakis' research focuses on understanding data landscapes created by health information technology and utilizing novel approaches for collecting and analyzing such data to better monitor healthcare quality and, overall, improve population health outcomes. With this expertise, Soulakis has helped IDPH develop and implement new surveillance techniques to better understand the impact of COVID-19 in the state of Illinois.
The webinar, part of the Translational Applications in Public Health webinar series from NUCATS and IPHAM, was moderated by Norrina Allen, PhD, associate professor of preventive medicine in the division of Epidemiology and director of the Center for Epidemiology and Population Health.
At the beginning of the webinar, Soulakis defined the term "informatics" in the context of epidemiology and public health, explaining that it is a systematic approach to how we use information and deliver it to others.
"Informatics is largely about identifying the flow of information and identifying places where we can intervene," said Soulakis, who is also a professor of Medical Social Sciences and director of data science services at NUCATS. "In my informatics approaches, it's a person working with information and not the person working for information. We don't blindly follow the advice of machines just yet."
A typical day for Soulakis and his team involves supporting epidemiological information needs across a various informatics workflows and incorporating statistical analysis of COVID-19 into case investigation and tracing data models. The core components of a public health informatics workflow, according to Soulakis, are data collection, analysis, reporting and response leading to measurable outcomes.
However, the constraints of time and human resources due to the ever-changing COVID-19 pandemic often prevents the team from realizing well-designed informatics-based public health interventions such as those seen in academic research, according to Soulakis. Sharing timely, relevant and factually correct information can be also a form of intervention, Soulakis added, but overall has been a challenge for a state like Illinois that is so geographically, socially and economically diverse.
"We're in an accelerated environment where we're almost never fixing today's problems," Soulakis said. "The fixes we're working on today have a limited shelf life because things continue to change. Most days, we operate at the edge of what is known about the pandemic."
According to Soulakis, public health practice data can improve COVID-19 response and overall COVID-19 research, and that listening to the needs and concerns of communities right now should be made a top priority in order to improve what technologies are developed and what data is shared.
Most recently, Soulakis has also taken on the role of chief public health informatics advisor for the Chicago Department of Public Health where he leads informatics strategy and works with city officials to design information infrastructure, not only for COVID-19, but also to address future public health needs for the city of Chicago.
"What I'm most personally interested in is learning from the community what we don't know and turning that from an active dialogue into computable knowledge to fuel effective public health interventions," Soulakis said.