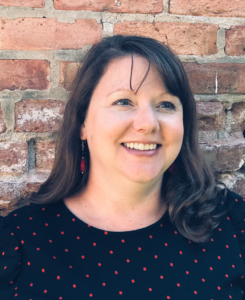 Molly Beestrum, MLIS, education and curriculum coordinator for the Galter Health Sciences Library and Learning Center, has been named Illinois Academic Librarian of the Year by the Illinois Library Association (ILA). The award, presented by the ILA Illinois Association of College and Research Libraries Forum, recognizes an Illinois librarian's outstanding statewide contribution to academic or research librarianship and to library development.
"I have been an academic librarian my entire career, and it is incredibly rewarding and humbling to be recognized this way," Beestrum said. "So much of librarianship depends on collaboration and teamwork, so I can't reflect on this award without thinking of the generous mentors early in my career, and of the remarkable, dedicated colleagues I've had in academia and in the Illinois Library Association."
Beestrum's career as an academic librarian spans more than 15 years, having held positions at various academic institutions around Chicago before joining Galter as its education and curriculum coordinator in September 2018.
In this role, Beestrum is the point person for all curricular and student-centered library support at Galter. Specifically, she helps conduct orientation and resource sessions for all new student groups; meets with students for consults on Area of Scholarly Concentration research; offers capstone and thesis support; coordinates systematic reviews; provides resource support and literature searches; and works with program faculty to determine how best to promote information literacy in Feinberg's student body. Beestrum is also the co-chair of the Galter Diversity and Inclusion Working Group and serves on Galter's Reference Working Group and Systematic Review Working Group.
"Molly's innovative and user-focused approach has strengthened partnerships with educational programs across campus, created more effective ways to support information literacy, and has contributed significantly to Galter's support of our shared mission to 'impact the practice of medicine through discovery and education.' We are absolutely thrilled to see this recognition of her outstanding efforts on behalf of the students and faculty in the Feinberg School of Medicine, and look forward to her continuing leadership on new opportunities to support student and trainee success," said Kristi Holmes, PhD, director of the Galter Health Sciences Library and professor of Preventive Medicine in the Division of Health and Biomedical Informatics and of Medical Education.
While Beestrum's role has had its challenges, such as the learning curve that comes with understanding Feinberg's curriculum and various programs, working with students continues to be the most rewarding part of her job, she said.
"I love meeting with students one-on-one and learning about their projects. Instructing students and connecting Galter resources to their coursework is incredibly gratifying. I get to see their excitement when they learn about a database that helps them with their project, or their relief they when realize that I can assist them with their literature searches," Beestrum said.
Beestrum is also a member of the ILA Executive Board and served as ILA president from 2019 to 2020. As ILA president, Beestrum led the organization through providing daily updates with resources for reliable and accurate information about the COVID-19 pandemic, the 2020 Census, and community activism and support in response to the nation's increasing call for racial and social justice. She also advocated for the protection of library staff and the public and the implementation of measures to reduce community transmission of COVID-19.
"The Galter Health Sciences Library and Learning Center is a next-generation fully integrated knowledge management hub for the Feinberg School of Medicine. It enables innovative ways of partnering to advance education and research because of its dedicated professionals, and recognition of Molly's successes by her peers is well earned. We are grateful for her many accomplishments supporting development of tomorrow's healthcare providers and excited for her continued leadership," said Richard D'Aquila, MD, the Howard Taylor Ricketts, MD, Professor of Medicine in the Division of Infectious Diseases, associate vice president of research, senior associate dean for Clinical and Translational Research, director of the Northwestern University Clinical and Translational Sciences Institute (NUCATS) and a member of the Robert H. Lurie Comprehensive Cancer Center of Northwestern University.
Beestrum will be honored with the award during the 2020 Illinois Library Association Annual Conference, which will be held virtually in October.