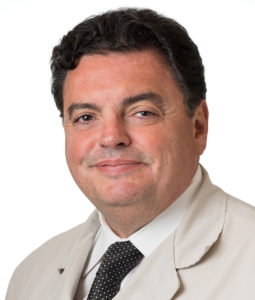 Michael M. I. Abecassis, MD, MBA, founding director of the Comprehensive Transplant Center and chief of Organ Transplantation in the Department of Surgery, has accepted a position as dean of the University of Arizona College of Medicine – Tucson.
"Leaving Northwestern Medicine was a very difficult professional and personal decision, but I am comforted by the fact that the Northwestern Medicine transplant program is extremely well positioned to continue providing patients with world-class clinical care, as well as advancing the science of transplantation for years to come," said Abecassis, who is also the James Roscoe Miller Distinguished Professor of Medicine, a professor of Microbiology-Immunology and a member of the Robert H. Lurie Comprehensive Cancer Center of Northwestern University.
As of November 2019, Abecassis will lead the University of Arizona College of Medicine – Tucson. Founded in 1967, the college receives more than $81.5 million in research awards annually, trains medical students and residents and provides clinical care through its partnership with Banner Health, one of the largest nonprofit health-care systems in the country.
Abecassis joined Northwestern University Feinberg School of Medicine in 1992. Initially recruited to serve as director of liver transplantation, he was named founding director of the Comprehensive Transplant Center in 2009, uniting leading transplant programs in multiple specialties with basic, translational and clinical research and building top-tier academic training programs.
Among his many leadership roles within Northwestern Medicine, he served as chief of the Division of Organ Transplantation in the Department of Surgery, where he helped pioneer several innovative surgical procedures and approaches to the care of transplant patients. Abecassis also served as Feinberg's dean for clinical affairs from 2008 to 2011, and as medical director of the kidney and liver transplant programs at Northwestern Memorial Hospital. In 2018, Northwestern Medicine celebrated 5,000 kidney, 2,000 liver and 750 pancreas transplants performed under Abecassis' leadership, as well as 3,000 live donor procedures for both kidney and liver transplants.
"Dr. Abecassis has been an outstanding and transformative leader during his time at Northwestern, a true luminary in transplantation and a force in clinical science," said Eric G. Neilson, MD, vice president for Medical Affairs and Lewis Landsberg Dean. "Though we will miss him, based on his commitment to the highest level of clinical care, visionary research and excellent mentorship and training, he is the ideal candidate to serve at the helm of a growing medical school. We wish him the very best success as he takes on this exciting new role."
Abecassis received his undergraduate and medical degrees from the University of Toronto in 1983, where he subsequently completed his residency and fellowship in surgery, followed by an additional clinical fellowship at University of Iowa Hospitals & Clinics. He also completed postdoctoral research fellowships both in Toronto and Iowa. In 2000, he received his Master of Business Administration degree from Northwestern University Kellogg School of Management, specializing in administration. He is board certified in surgery both in Canada and the United States.
A prolific scientist, Abecassis has served as author or co-author on more than 300 peer-reviewed publications in scientific journals. He has received continuous funding from the National Institutes of Health (NIH) for the past 23 years, serving as principal investigator of research grants that span from studies of the molecular mechanisms of cytomegalovirus latency and reactivation, to translational and clinical studies in pursuit of a molecular biomarker strategy for both kidney and liver transplant recipients.
According to the Blue Ridge Institute for Medical Research, Abecassis ranked within the top 12 out of more than 500 academic surgeons for NIH funding for the past several years. In addition, Abecassis has trained almost 100 clinical and research fellows.
He is a member of many national and international professional societies, and is a past president of the American Society of Transplant Surgeons. He has served and continues to serve on the editorial boards of several major journals, and has been a member of several NIH study sections and special emphasis panels relating to both transplantation and virology.