The Medical Faculty Council honored the 2019 Mentor of the Year Award recipients at a workshop on March 13, where the awardees shared strategies and discussed their backgrounds and experiences with mentorship.
This year's recipients were Tamara Isakova, MD, MMSc, associate professor of Medicine in the Division of Nephrology and Hypertension and director of the Center for Translational Metabolism and Health within the Institute for Public Health and Medicine (IPHAM), and John Varga, MD, director of the Northwestern Scleroderma Program and the John and Nancy Hughes Distinguished Professor of Medicine in the Division of Rheumatology.
Isakova and Varga will formally receive their awards at the official Mentor of the Year Award ceremony during the 15th Annual Lewis Landsberg Research Day on Thursday, April 4.
"No matter what stage of your career you are in, we all need a mentor," said June McKoy, MD, JD, MBA, '01 GME, president of the Medical Faculty Council (MFC) and associate professor of Medicine in the Division of General Internal Medicine and Geriatrics.
Fostering Grit
Isakova was nominated by Susan Quaggin, MD, chief of Nephrology and Hypertension in the Department of Medicine, who also introduced Isakova at the workshop.
"It's clear Tamara is an exceptional investigator, clinician and leader. But Tamara's true passion lies in mentorship, and I am very fortunate, as division chief, to witness firsthand her commitment and dedication," said Quaggin, also the Charles H. Mayo, MD, Professor and director of the Feinberg Cardiovascular and Renal Research Institute. "I can't imagine a more deserving individual."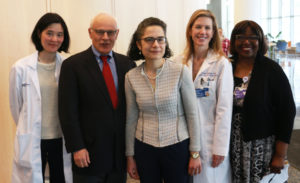 Isakova joined Northwestern in 2013. She earned her medical degree from SUNY Downstate Medical Center, and completed residency and fellowship training at Massachusetts General Hospital. She also holds a master's in clinical and physiological investigation from Harvard Medical School.
At Northwestern, Isakova is a clinical nephrologist and an active investigator, with close to 40 peer-reviewed publications. She is widely recognized as an expert in disordered mineral metabolism in chronic kidney disease.
During her presentation, Isakova discussed the importance of fostering grit through mentorship, as inspired by the book Grit by Angela Duckworth.
"It's not about talent and it's not about IQ. But it is about a combination of passion and perseverance — and this combination can actually be cultivated, and it's what helps people succeed," Isakova said.
Although Isakova shared a variety of lessons derived from her experiences as both a mentee and mentor, she concluded that instilling passion is paramount.
"The idea that you take pride in your work, and you view your work as your art — I think that's probably the most meaningful lesson that I learned over the years," she said.
Paying It Forward
Varga was nominated by Karen Ho, MD, associate professor of Surgery in the Division of Vascular Surgery.
"Dr. Varga is a world-renowned scientist," Ho said. "What's extraordinary to me is how generous he has been with his time, resources, attention and knowledge. When I meet with him, I always feel that there is nothing more important, nothing of greater priority, than him helping me do better."
Varga earned his medical degree from New York University, followed by residency training at Brown University/Rhode Island Hospital and fellowships at Boston University Medical Center and University of Pennsylvania Health System.
Varga, who joined Northwestern in 2004, founded the Northwestern Scleroderma Program, one of the largest in the country. He is a master of the American College of Rheumatology and in 2017 received the Lifetime Achievement Award from the Scleroderma Foundation.
"But I think Dr. Varga's most important legacy will be as a mentor," Ho said. "He's really great at gauging his mentors, understanding when to provide guidance and when independence is important, and he always challenges me to do better and to do more."
Varga and Ho are also members of the Robert H. Lurie Comprehensive Cancer Center of Northwestern University.
During his presentation, Varga shared his philosophy that mentorship should be personalized to each mentee, similar to precision medicine.
"I think mentoring is one of the most important things we do as faculty," Varga said. "It's also the most joyful — without any doubt — and it absolutely can have a formative impact on people at all kinds of stages."
Varga also emphasized the importance of paying it forward in science and medicine.
"It's not about paying it back, but paying it forward," said Varga, who is also a professor of Dermatology and Pharmacology. "That's how this whole culture of knowledge and skill-building goes on."