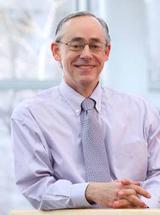 Richard M. Pope, MD, Solovy-Arthritis Research Society Professor and professor of Medicine in the Division of Rheumatology, has been named the recipient of the 2017 Tripartite Legacy Faculty Prize for excellence in research that emphasizes translational approaches, teaching, mentoring and leadership. He will be presented the award at a ceremony during the 2017 Lewis Landsberg Research Day on Thursday, April 6.
"It's nice to be recognized, nice to realize somebody in the institution appreciates all that you've done," said Pope, who is a member of the Center for Genetic Medicine, Interdepartmental Immunobiology Center and the Robert H. Lurie Comprehensive Cancer Center of Northwestern University. "It's a real honor and privilege to be able to go into the lab or into the clinic to do translational research and try to change the way care is given and improve therapies."
Pope's lab studies the biology of macrophages in rheumatoid arthritis, specifically directed at defining the mechanisms that promote resistance to apoptosis, or cell death. He began his career at Feinberg in 1985 and was named chief of the Division of Rheumatology in 1989, a position he held for 27 years.
He received his medical degree from Loyola University, Chicago and completed an internship and residency at Michael Reese Medical Center. While working with patients at Michael Reese, he became interested in medical research and went on to complete his clinical fellowship at the University of Washington Medical Center, specializing in rheumatology.
Aside from the work in his lab, Pope leads the Multidisciplinary Career Development Program (KL2), a training grant sponsored by the Northwestern University Clinical and Translational Sciences Institute (NUCATS), supporting junior faculty in clinical and translational research.
During his career he has published more than 100 peer-reviewed papers and mentored dozens of scientists who now work in medical research institutions around the world.