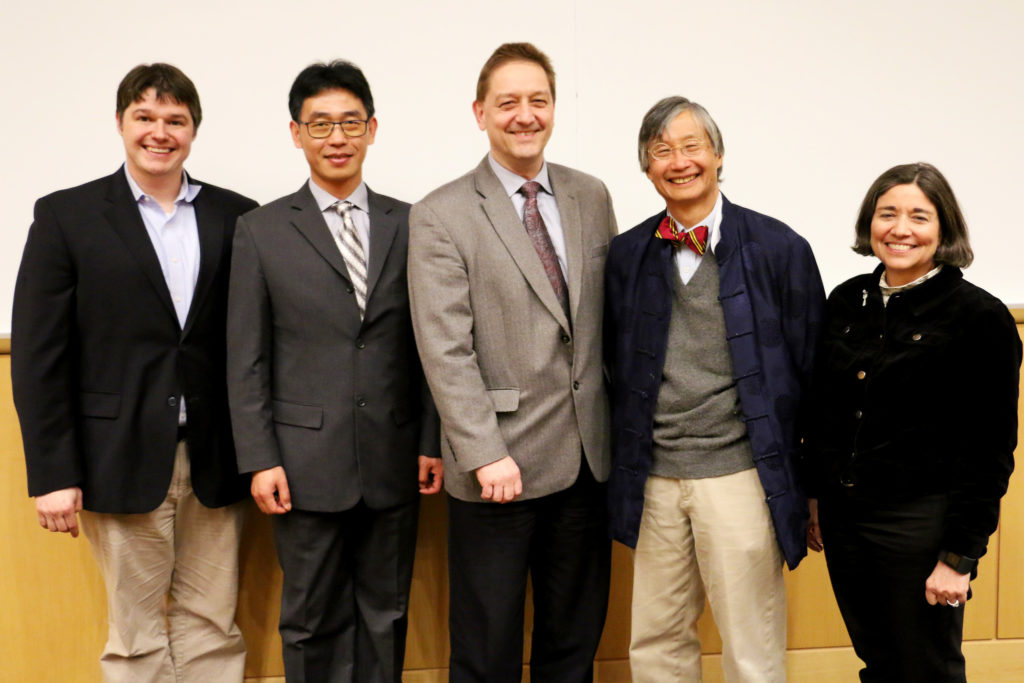 At a mentoring workshop on Wednesday, March 22, Feinberg's Medical Faculty Council honored the 2017 Faculty Mentor of the Year Award recipients Rowland Chang, MD, MPH, professor of Preventive Medicine, Medicine, and Physical Medicine & Rehabilitation, and Claus-Peter Richter, MD, PhD, professor of Otolaryngology.
Both faculty members discussed their backgrounds, experiences and their perspective on the role of a mentor during the event. Richter and Chang will receive their awards at a ceremony during the 2017 Lewis Landsberg Research Day on Thursday, April 6.
"The mentor of the year is something that celebrates the importance of mentorship throughout Feinberg," said Chris Robinson, '04 CPO, '13 MS, MBA, president of the Medical Faculty Council and assistant professor of Physical Medicine and Rehabilitation.
Challenging Mentees and Guiding Curiosity
Xiaodong Tan, PhD, research assistant professor of Otolaryngology, nominated Richter for his encouragement and the independence he grants on his students to pursue their research interests.
"He gave me the freedom to explore my interests and provides help whenever I hit obstacles. In short, Dr. Richter is the nicest, most thoughtful, encouraging and passionate mentor I've ever had," said Tan, who has worked in Richter's lab for the past four years. Together, they study the development and improvement of cochlear implant electrodes and the micromechanics of the cochlea in the ear.
During his presentation, Richter, also vice chair for research of Otolaryngology, shared his experiences and lessons learned from his own mentors in addition to providing important aspects of mentoring. He advised attendees that asking students and junior faculty questions leads them to find their own solutions.
"I try to tease out the best way for the mentee to achieve their goal," Richter said. Since joining the faculty in 2002, he has mentored more than 76 trainees. "Ask what are their plans and where are they in their plan. Follow up with them as a mentor … and keep them on track."
Richter also has adjunct appointments in the Departments of Biomedical Engineering and Communication Sciences and Disorders, is a fellow of the Hugh Knowles Center for Clinical and Basic Science in Hearing and Its Disorders at Northwestern University, and is co-founder and CTO of Resonance Medical, LLC.
Mentoring Across Disciplines
Since joining Northwestern in 1982, Chang has found many ways to mentor students and faculty including in his interdisciplinary research group that focuses on rehabilitation for patients with arthritis and through his leadership as founding director of the Institute for Public Health and Medicine.
"It is the award I will cherish the most," Chang said of the Mentor of the Year Award. "It's so joyful for me to be in a mentoring situation where I am also growing."
During his talk, he spoke about the evolution of his research and leadership and engaged the audience in a dialogue on mentorship styles. He suggested discussing grants, papers and presentations at every meeting, and allowing the mentee to set meetings and milestones.
He also advised bringing together interdisciplinary teams, because he believes everyone learns something from each other, and stressed that mentors need to "understand the life context of mentees, so you have an idea of what is realistic and set goals people can achieve."
"He has helped me make collaborations. Thanks to him, I've been successfully funded. He truly deserves this honor and has shaped my research career over the past eight years," said Linda Ehrlich-Jones, PhD, research associate professor of Physical Medicine and Rehabilitation. "But I am not alone, there have been many who have been touched by his mentoring skills and we all agree he is one of the best."