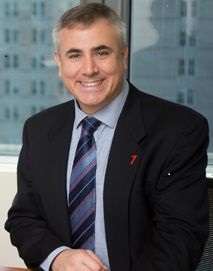 Donald Lloyd-Jones, MD, ScM, senior associate dean for Clinical and Translational Research and chair of Preventive Medicine, has been selected to receive the 2017 Joseph Stokes, III, MD Award from the American Society for Preventive Cardiology (ASPC) for his achievements in preventive cardiology.
Presented annually, the award commemorates Joseph Stokes III, MD, a physician who contributed to the fields of cardiology and epidemiology as well as to the ASPC.
"I am truly honored to receive the Joseph Stokes, III, MD Award, and it is profoundly humbling to join such a prestigious list of prior awardees," said Lloyd-Jones. "The Stokes Award is especially meaningful to me as it has previously been awarded to a number of my mentors, including Bill Kannel in 2011, with whom I worked at Framingham, and Jerry Stamler in 2012, Phil Greenland in 2002, and Darwin Labarthe in 2006, who are all current faculty here in our Department of Preventive Medicine at Feinberg."
Lloyd-Jones will be presented with the award during the Epi-Lifestyle Meeting on March 9 in Portland, Oregon. Among his many achievements, Lloyd-Jones is being honored for his work in atherosclerotic cardiovascular disease (ASCVD) prevention.
"All of the prior awardees have created such a wonderful legacy of research and had a profound impact on cardiovascular prevention across the globe. To be included in this group is amazing, and I am deeply grateful to the ASPC for this honor," he said
Lloyd-Jones is also the director of the Northwestern University Clinical and Translational Sciences Institute, the Eileen M. Foell Professor, and a professor of Medicine in the Division of Cardiology.
"It is my great privilege to present the Joseph Stokes III, MD Award to Dr. Donald Lloyd-Jones," said Seth Baum, MD, president of the ASPC. "Dr. Lloyd-Jones has been a beacon for ASCVD prevention. Through his teaching and prolific publications he has helped make 'prevention' a household word. For this and so much more, we are all in his debt."