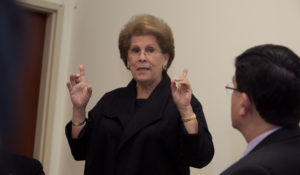 "We have to be a voice for the underserved," said Antonia Novello, MD, former U.S. Surgeon General, November 4 during a lecture sponsored by Feinberg's Office of Diversity and Inclusion, speaking on health disparities in the United States.
"She is impressive and inspiring; she has had an incredible personal journey. She is here to share her wisdom, her life story and her experiences," said Clyde Yancy, MD, MSc, vice dean for Diversity and Inclusion, Magerstadt Professor and chief of Cardiology in the Department of Medicine.
Novello was the first Hispanic Surgeon General, as well as the first woman appointed to the position. During her tenure, she was an outspoken champion of diversity and inclusion. Novello later served as Commissioner of Health for the State of New York from 1999 to 2006.
"One thing I learned when I was Surgeon General was that the world owes you nothing," Novello said. "I also learned that service is the rent that you pay for living and that service will set you apart … But what I learned more than anything when you get to the top of your ladder: don't you ever forget your roots where you came from, your language or your community. I also learned that if we are to succeed in all the years that are coming is that we have to put — finally — an end to the stereotypes about minorities in the United States of America."
Novello shared the challenges she said needed to be addressed to address health disparities, challenges that include shifting demographics and education in minority populations. She also discussed the importance of cultural awareness for physicians and the need to improve medical professionals' communication skills with patients without judgments.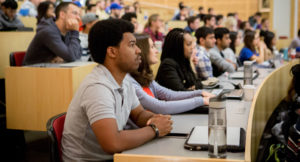 "We need to acknowledge the special needs of the emerging communities and the special needs of the people who are different from us," Novello said. "Changing the insensitivity of the healthcare system, I suggest we have to start viewing our patients as partners in healthcare."
Nada Ali, a second-year medical student, said she liked how Novello shared examples and suggestions for treating patients from different cultural backgrounds.
"The underlying idea behind her talk was to show respect for another human being, especially when you are interacting with different patients," she said.
Second-year medical student Javier Suarez agreed, saying "It was an incredible talk. As medical students, we are exposed to a lot of the statistics, but when she said the words, there was just more urgency in her voice. The way she spoke, she put what we learn about cultural competency in a different context."
Earlier in the day, Novello gave a lecture to first-year medical students on improving healthcare for minorities and met with the Department of Medicine's Diversity and Cultural Affairs Council.