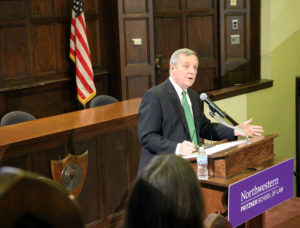 Even in the midst of a divisive presidential election, U.S. Sen. Dick Durbin (D-Ill.) said he sees the opioid epidemic as one of the few national issues that cuts across both sides of the aisle.
"It's across the country — blue states and red states. And there is no town too small or suburb too wealthy to be spared," Durbin said, during his keynote speech at Northwestern University's 2016 Global Health Interdisciplinary Symposium. "Everyone has been hit by the opioid crisis. Unfortunately, there is no easy answer."
The annual series, started in 2014, brings together experts from medicine, law and government to share their understanding of a specific public health challenge and generate holistic solutions.
This year's event, held October 20 and hosted by Northwestern University Pritzker School of Law, centered on the current public health crisis stemming from opioid misuse, featuring Durbin and 18 experts across a range of fields — from physicians and addiction specialists, to attorneys and law enforcement agents.
Speakers at the symposium provided stark context for the current situation: Close to 300 million opioid prescriptions were written in 2015, and 78 people now die every day from an opioid overdose.
"While opioid misuse has always been a major public health challenge, since 2010 it has become a devastating plague in many communities and families," said Osefame Ewaleifoh, a fifth-year PhD/MPH student and a co-organizer of the symposium. "We focused on the opioid epidemic this year because we deeply believe a comprehensive interdisciplinary approach that brings legislators, public health workers and law enforcement together will have the greatest impact."
Panels throughout the day explored the economic costs of the epidemic, innovative approaches to teaching and administrating pain management, and the local response from the city of Chicago, among other topics.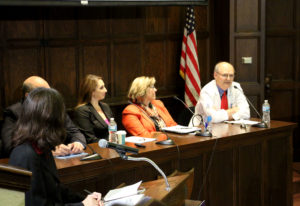 Patrick Lank, MD, '10 GME, assistant professor of Emergency Medicine, moderated a panel discussion on the best way to strike a balance between pain management and addiction. "How each person experiences pain is different," he said. "So we have to remember that as we treat, we can't look for a one-size-fits-all solution."
During a panel on "Innovation in Policy and Practice," Shana Margolis, MD, assistant professor of Physical Medicine and Rehabilitation, shared the success she's found providing interdisciplinary care — including physical therapy, occupational therapy and mind-body approaches — at the Rehabilitation Institute of Chicago. "My goal is to get patients in control of the pain again and that means putting as many tools in their toolbox as I can to help them manage it," she said.
Physicians also spoke from the trenches about how the epidemic has personally impacted their practice. "One of the hardest things I do is look a patient in the eye and tell them I'm lowering their pain medication," said David Neely, MD, '85 GME, associate professor of General Internal Medicine and Geriatrics.
In his keynote speech, Durbin provided a sobering look at the situation across the state and country, but also spoke of progress and emerging solutions. In particular, he pressed for increased funding for addiction treatment and encouraged physicians to utilize new pocket cards from the U.S. Surgeon General that summarize CDC guidelines for prescribing opioids. "The medical community has got to be the gatekeepers on this," Durbin said. "Then we'll finally start to slow this down."
Juliet Sorensen, Harry R. Horrow Professor in International Law and co-organizer of the series, ended the symposium with a closing appeal for continued innovation. "A university, with its depth and breadth of expertise, is really the perfect place for experts across disciplines to come together and seek a solution to this crisis," she said. "I hope that today is not an end but a beginning for further conversations and collaboration."
The symposium was sponsored by Feinberg's Institute for Public Health and Medicine (IPHAM), the Northwestern Public Health Review, the Center for International Human Rights at the Pritzker School of Law's Bluhm Legal Clinic and the Buffett Institute for Global Studies.