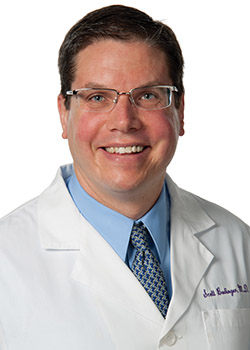 Scott Budinger, MD, has been appointed chief of the Division of Pulmonary and Critical Care Medicine. He succeeds Jacob Sznajder, MD, who is stepping down from the position to develop new research programs at Feinberg.
"Scott is exceptionally accomplished as a clinician, investigator and educator," said Douglas Vaughan, MD, chair of the Department of Medicine. "He is innovative in thought and generous in spirit and has the leadership skills and vision to take our already very successful division to the next level."
Currently a professor of Medicine and of Cell and Molecular Biology, Dr. Budinger has served on Feinberg's faculty for 16 years.
"As chief, I hope to build on the accomplishments of Dr. Sznajder and work with our faculty and campus partners to develop an integrated respiratory care program. The goals of this center will be to enhance the patient experience within our established tradition of outstanding clinical care and facilitate the translation of insights from our world-class research programs to the personalized care of our patients, while providing the optimal environment to educate Northwestern Medicine students, housestaff and fellows," he said.
Dr. Budinger's research, continuously funded by the National Institutes of Health (NIH) since 2001, is focused on understanding why age is the strongest risk factor for the development of chronic lung disease. He leads a multi-investigator program project funded by the NIH's National Institute on Aging testing the hypothesis that dysfunction in the lung's proteostasis network underlies age-related susceptibility to influenza A infection. The program includes Dr. Sznajder; Navdeep Chandel, PhD, David W. Cugell Professor of Medicine; Richard Morimoto, PhD, professor of Molecular Biosciences at the Weinberg College of Arts and Sciences; Harris Perlman, PhD, chief of Rheumatology; Karen Ridge, PhD, associate professor of Medicine; and William Balch, PhD, at the Scripps Institute.
Dr. Budinger earned his undergraduate degree in chemical engineering from Northwestern University and his medical degree from the University of Illinois at Chicago. He completed a residency in internal medicine and a fellowship in pulmonary and critical care at the University of Chicago Hospitals before joining Feinberg's faculty in 2000.
Among his many accomplishments, Dr. Budinger was elected to join the prestigious American Society for Clinical Investigation in 2014. He served as a deputy editor for the American Journal of Respiratory and Critical Care Medicine from 2000-2015 and is on the editorial board of the American Journal of Respiratory Cell and Molecular Biology. He is a member of the Alpha Omega Alpha medical honor society and has received the Department of Medicine Outstanding Teaching Award.
Sznajder Steps Down After 17 Years As Chief
When Dr. Sznajder became chief of Pulmonary and Critical Care Medicine in 1999, the division had seven faculty members and five fellows. Now, there are more than 40 full-time faculty members and 25 fellows supporting the division's burgeoning clinical operation and research portfolio.
"My proudest achievement as chief has been promoting a critically thinking, collegial environment that promotes individual and collective success," said Dr. Sznajder. "I am very fortunate to have wonderful colleagues with whom daily work is stimulating and productive."
He will remain a member of the division's faculty and continue to run a multi-project research program focused on the pathogenesis of acute lung injury. The program has been funded by the NIH's National Heart, Lung, and Blood Institute since 2002 and was recently renewed for another five years.
"I am fortunate to be taking over this position from Dr. Sznajder," Dr. Budinger said. "Thanks to his outstanding leadership, the research, clinical and educational components of our division are flourishing."