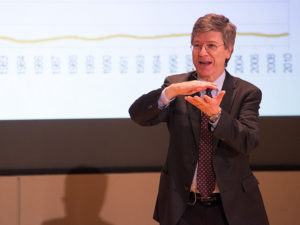 On Sept. 25, the United Nations (UN) General Assembly adopted 17 sustainable development goals that its 193 member states will use to frame political agenda over the next decade and a half. Renowned economist and UN advisor Jeffrey Sachs, PhD, recently spoke to Northwestern University about the pathways to achieving the third goal: to "ensure healthy lives and promote well-being for all at all ages."
"Health is a fundamental human right. It has been recognized as a human right now for more than 60 years, but it hasn't been realized," Sachs said, delivering the keynote address at Northwestern's Global Health Interdisciplinary Symposium on Nov. 19.
The new goal represents the latest global effort to realize universal health, an objective Sachs believes can be accomplished by 2030.
"There's reason to take hope from trends that are, if not universal, very widespread around the world," he said. "To put it quantitatively, in 1990, about 12.5 million children died under the age of 5, and those deaths were almost entirely from readily preventable or treatable causes. … This has come down by half. But 6 million dying before the age of 5 this year is a tragedy and a blight on our global society."
Twice named one of Time magazine's most influential world leaders, Sachs is an expert in sustainable development, a bestselling author, a syndicated columnist and a special advisor to the UN's secretary-general. He is director of the Earth Institute at Columbia University, where he is also the Quetelet Professor of Sustainable Development, Health Policy and Management.
Sachs walked through the obstacles, from poverty to market power, that stand in the way of achieving health for all, internationally as well as in the United States. He emphasized that small investments can lead to dramatic improvements in health and that good health in turn leads to economic development.
"To deploy a functioning, low-cost, primary health system in a low-income setting requires about $70 to $80 per person for year," he said. "The remarkable fact is that this is too high a price for the poorest countries to pay on their own. … The point I've been trying to make for 15 years is we need to fill the financial gap. It's not a lot."
During the two-day symposium, scholars, policy experts, non-governmental organizations and health professionals joined together for moderated discussions on global health topics ranging from research translation to social entrepreneurship.
"It is becoming increasingly clear that the future of global health is an interdisciplinary future," said Osefame Ewaleifoh, a fourth year PhD/MPH student and one of the event's organizers. "Our goal for this symposium was to bring together experts in economics, law, design and policy, among others, to stimulate a new interdisciplinary conversation on global health."
The symposium was sponsored by Feinberg's Institute for Public Health and Medicine (IPHAM), the Center for International Human Rights at the Pritzker School of Law's Bluhm Legal Clinic and other Northwestern organizations. Sach's address was part of the Hollister Lecture, established to support programs broadly related to the improvement of public health.