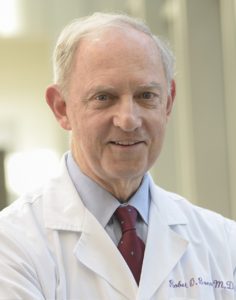 Robert Bonow, MD, the Max and Lilly Goldberg Distinguished Professor of Cardiology, has been named editor-in-chief of JAMA Cardiology, a new journal in the JAMA Network that will debut in 2016.
"I am very excited to join the JAMA leadership team and to serve as editor-in-chief as we launch JAMA Cardiology. I look forward to the development of a cutting-edge journal in cardiovascular medicine that will serve both the research and clinical communities, with the goals to advance science, educate our readers, inform the practice of cardiology and influence healthcare policy," Dr. Bonow said.
The 12th journal in the JAMA Network, JAMA Cardiology will focus on all aspects of cardiovascular medicine, including epidemiology and prevention, diagnostic testing, interventional and pharmacologic therapeutics, translational research, healthcare policy and global health.
"Bob Bonow is the perfect inaugural editor-in-chief, a world renowned cardiologist with vast research and clinical experience. He has assembled an outstanding group of senior editors and editorial board members," said Howard Bauchner, MD, editor-in-chief of JAMA and the JAMA Network.
Dr. Bonow is a professor of Medicine in the Division of Cardiology, the department's vice chairman and director of the Center for Cardiovascular Innovation. Since joining Feinberg's faculty in 1992, he has taken on several additional leadership responsibilities, including serving as chief of Cardiology and helping establish the Bluhm Cardiovascular Institute. He is also a past president of the American Heart Association (AHA) and a Master of the American College of Cardiology and of the American College of Physicians.
Dr. Bonow has been highly recognized for his research in a variety of cardiac diseases, including coronary artery disease, valvular heart disease and heart failure. He is one of the world's most highly cited researchers, having published more than 500 articles and 100 book chapters. He is also a principal editor of Braunwald's Heart Disease: A Textbook of Cardiovascular Medicine.
He has received numerous honors throughout his career, including the National Institutes of Health Director's Award, the U.S. Public Health Service Commendation Medal and Outstanding Service Medal, the American College of Physicians John Phillips Memorial Award, the American College of Cardiology Distinguished Service Award and several recognitions from the AHA, including the organization's highest honor, the Gold Heart Award.
"The journals published by the American Medical Association are preeminent amongst all medical periodicals," said Clyde Yancy, MD, chief of Feinberg's Division of Cardiology. "Now, with the launch of JAMA Cardiology, who better to carry that legacy forward than Bob Bonow? It's a perfect fit."
"The combination of his depth of knowledge, superb leadership skills and deep integrity guarantees that JAMA Cardiology will launch as a trusted source for cardiovascular medicine from day one," Dr. Yancy said. "His humility precludes celebration, but for Northwestern Medicine, the worldwide cardiovascular community and the patients who trust us for their care, this is a good day."