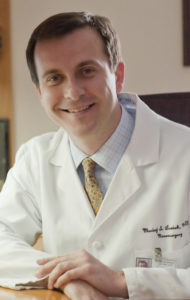 Influential neurosurgical oncologist Maciej (Matt) Lesniak, MD, has been named the Michael J. Marchese Professor and chair of the departments of Neurological Surgery at Feinberg School of Medicine and Northwestern Memorial Hospital.
Dr. Lesniak comes from the University of Chicago Pritzker School of Medicine, where he is a professor of Neurosurgery, Neurology and Cancer Biology as well as director of neurosurgical oncology and neuro-oncology research. He is a renowned neurosurgeon, with a reputation for investigating and carrying out creative approaches to treat adults with both malignant and benign brain tumors.
"Matt is not only an internationally recognized physician in the field of neurosurgery, he is also an innovative scientist and scholar dedicated to finding novel targets for glioma therapies," said Eric G. Neilson, MD, vice president for Medical Affairs and Lewis Landsberg Dean. "We are delighted to welcome him to Northwestern Medicine and have no doubt he will be a superb leader for the Department of Neurological Surgery."
Dr. Lesniak was born in Krakow, Poland, and received an undergraduate degree and a master's degree in healthcare management from Harvard University. He earned his medical degree in 1996 from the Johns Hopkins University School of Medicine and completed his residency in neurosurgery and fellowship in neurosurgical oncology in 2003, both at the Johns Hopkins Hospital. In 2003, he joined the University of Chicago, where he rose through the ranks over the next 12 years.
"Dr. Lesniak has distinguished himself as a physician-scientist and a leader in his field. We are excited for him to join us and believe he will make many invaluable contributions to advance Northwestern Medicine's reputation for excellence and outstanding care," said Dean M. Harrison, president and CEO of Northwestern Memorial HealthCare.
In his research, Dr. Lesniak explores a diverse range of promising brain cancer therapies involving genes, stem cells, the immune system and nanotechnology. He has published more than 350 peer-reviewed journal articles and other publications and is currently the principal investigator of six multi-million dollar grants funded by the National Institutes of Health (NIH).
"It is a tremendous privilege to be entrusted with the leadership of a top neurosurgical department at one of the best and leading academic medical institutions in the United States. The Department of Neurological Surgery at Northwestern has a rich history and is composed of national and international leaders who deliver outstanding neurosurgical care and participate in leading-edge neurological research," Dr. Lesniak said.
"I am humbled by this honor and look forward to working with Dean Eric Neilson and Dean Harrison on promoting our core values, advancing medical science and education and delivering exemplary clinical care that is without rival in the United States," he said.
Dr. Lesniak's career to date has been marked by many honors and awards, notably the American Society of Gene and Cell Therapy Outstanding Investigator Award and, most recently, the National Cancer Institute Outstanding Investigator Award for exceptional and transformative cancer research. His wide involvement in the scientific community includes memberships in many societies, including the American Association for Cancer Research, the American Society of Clinical Oncology, the American Academy of Neurological Surgeons and the Society of Neurological Surgeons. He also participates on a myriad of scientific advisory boards, editorial boards and grant review panels.
Even before arriving on campus, Dr. Lesniak forged ties to the Northwestern community: He is a member of the Northwestern University Center of Cancer Nanotechnology Excellence (CCNE) and collaborates with faculty members in the neurosciences on ongoing research.
Dr. Lesniak fills the position held in interim by Michel Kliot, MD, professor of Neurological Surgery.
"We would like to thank Michel for his outstanding service during the department's time of transition," Dr. Neilson said. "We also greatly appreciate the leadership of Dimitri Krainc, MD, who chaired the search committee that identified Dr. Lesniak."