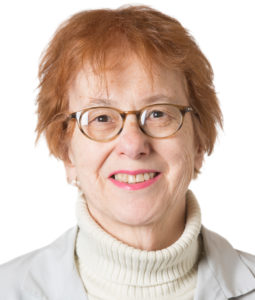 For her contributions to basic science bone research, Paula Stern, PhD, professor in Pharmacology, has been chosen to receive the 2015 Louis V. Avioli Foundation Award from the American Society for Bone and Mineral Research (ASBMR). She will be presented the award at the society's annual meeting in October.
"This is an esteemed award in our organization and I admire the work of previous awardees. It is a great honor especially being the first woman to receive it," Stern said.
Stern was nominated by friend and research colleague, Klaus Klaushofer, MD, professor at Ludwig Boltzmann Institute of Osteology in Vienna, Austria. Murray Favus, MD, professor of medicine at the University of Chicago, seconded the nomination. The award recognizes her lifelong contributions to the basic science underlying bone health.
"A lot of times people don't think about bone being very dynamic tissue, but it is. There are cells involved in building and breaking down bone, and it's important for all cells to be healthy in order for them to work together in a coordinated manner," she said.
During her nearly five decades at Feinberg, Stern and her team have made significant discoveries in the mechanisms of bone formation and resorption, focusing on osteoporosis, cancer metastases and most recently sex-specific differences in bone health.
In addition to her research, Stern is also passionate about teaching and promoting the professional development and advancement of women in science. She has previously been honored with Feinberg's George H. Joost Outstanding Teaching Award, Dean's Award for Teaching Excellence and Distinguished Women in Medicine and Science Award presented by the Women Faculty Organization. She was also the first female president of the ASBMR, which now presents the Paula Stern Achievement Award each year to recognize a woman in the bone field who has made significant scientific achievements and promoted the professional development and advancement of women in the field.
"I'm so impressed with all the women who have received the award. It's been a privilege to see all the work they've done," Stern said. "I think it really shows how important a professional organization can be in one's career."
Dr. Stern completed her PhD in Pharmacology at the University of Michigan, and completed a postdoctoral fellowship at the University of Rochester in endocrine research, focusing on bone and mineral research.
Each year the ASBMR presents the Louis V. Avioli Founders Award to a member of the society to honor their fundamental contributions to bone and mineral basic research.