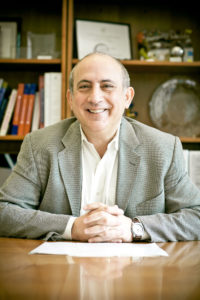 Jonathan Licht, MD, Johanna Dobe Professor and chief of the Division of Medicine-Hematology/Oncology, has accepted a new leadership position at the University of Florida Health Cancer Center, where he will serve as director beginning October 1.
"On behalf of Northwestern Medicine, we are enormously grateful for Jon's dedication to his patients and to the field of cancer research. Jon has been a valued physician, scientist, leader and mentor during his tenure at Northwestern University Feinberg School of Medicine, continuously driving medical discovery through his accomplishments," said Eric G. Neilson, MD, vice president for Medical Affairs and Lewis Landsberg Dean. "We wish him the very best during the next phase of his career."
Dr. Licht joined Northwestern University Feinberg School of Medicine in 2006 to lead the Division of Hematology/Oncology. He is also a professor in Biochemistry and Molecular Genetics and associate director of clinical sciences research at the Robert H. Lurie Comprehensive Cancer Center of Northwestern University.
"These nearly 10 years in Chicago at Northwestern have been some of the most productive and formative years of my academic career," Dr. Licht said. "The new experiences I had building a great hematology/oncology division with extraordinary clinical and basic scientists, participating in the growth of the Robert H. Lurie Comprehensive Cancer Center and its successful renewals, the development of new research projects within my own group, and the development of multi-investigator grants including the Chicago Region Physical Sciences Oncology Center with colleagues on the Evanston Campus have all helped prepare me for my new role. I am deeply appreciative of the opportunities afforded me by Northwestern University, the Feinberg School of Medicine and Northwestern Memorial Hospital and look forward to continued collaboration and friendship."
Dr. Licht's research efforts aim to combat blood cancers such as leukemias and lymphomas by developing inhibitors against abnormally expressing epigenetic enzymes and proteins. He has built collaborations across a diverse array of departments, from chemistry to engineering, to better understand the aberrant gene regulation that can lead to disease. In 2012, he received a $6.25 million grant from the Leukemia & Lymphoma Society to forward this line of research. He is also one of the principal investigators behind a $9.6 million grant Northwestern University received this year from the National Cancer Institute.
"Jon has overseen a remarkable period of growth and success in the Division of Hematology/Oncology. This is a reflection of his energy, leadership and vision," said Douglas Vaughan, MD, chair of Medicine. "He is a consummate physician-scientist and his impact on the division and the department will be felt for years to come."
Before arriving at Feinberg, Dr. Licht was a professor at Icahn School of Medicine at Mount Sinai. He earned his medical degree at Columbia University and completed a residency at the Beth Israel Deaconess Medical Center and a fellowship at the Dana-Farber Cancer Institute, both in Boston.
Over the course of his career, Dr. Licht has received many achievements and honors, including 170 peer-reviewed publications and Feinberg's 2015 Faculty Mentor of the Year Award.
"Jonathan has contributed significantly in the growth of the Lurie Cancer Center over the years as chief of Hematology-Oncology where he recruited outstanding basic scientists and as co-principal investigator of our physical sciences in oncology grant," said Leonidas Platanias, MD, PhD, director of the Lurie Cancer Center. "At his new position he will have the exciting opportunity to drive the development of the University of Florida Cancer Center towards National Cancer Institute (NCI) designation."