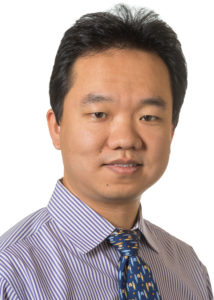 Peng Ji, MD, PhD, '13 GME, assistant professor in Pathology, was recently honored with one of the American Society of Clinical Investigation's (ASCI) 2015 Young Physician-Scientist Awards. He is one of only 40 investigators nationwide to receive the honor this year.
"I feel very honored to receive this award and to be recognized among a prestigious group of young investigators," Dr. Ji said.
Dr. Ji has made significant contributions in the fields of pathology and hematology. In a recent paper published in Blood, Dr. Ji and his colleagues discovered several genetic mutations associated with the development of Myelodysplastic syndromes (MDS), a group of diseases that affect bone marrow and lead to ineffective production of stem cells that become blood cells.
His lab discovered that the disease was associated with the loss of parts of chromosome 5, which in turn led to abnormal overexpression of the CD14 gene and contributed to the development of MDS.
Dr. Ji said that working on research both in a lab and clinical setting allows him to better treat his patients and recognize disease patterns in his research.
"When I started my post-doc training, I started to see there was a disconnect between basic science and clinical medicine," Dr. Ji said. "I knew I needed to use my clinical training and knowledge to guide my basic science research."
In addition to receiving the award, he is also finishing a clinical residency in pathology and pursuing research in his lab. He has been awarded The American Society of Hematology Scholar Award, The Chicago Biomedical Research Consortium Catalyst Award, the Department of Defense Career Development Award and recently an NIH R01 grant award for his study in terminal erythropoiesis.
The Young Physician Scientists Award is given to faculty who are supported by any NIH K award or equivalent, are early in their first faculty appointment and have made notable achievements in their research. Recipients were presented with their awards at a celebratory dinner in April.