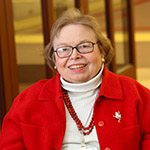 Jerilyn Ann Logemann, '68 PhD, professor in Neurology and Otolaryngology – Head and Neck Surgery, died June 19 at age 72.
Logemann was also the Ralph and Jean Sundin Professor of Communication Sciences and Disorders at Northwestern University School of Communication. She had taught at Northwestern University since 1978.
Between 1963 and 1968, Logemann earned her bachelor's, master's, and PhD in speech pathology from Northwestern. She taught briefly at local universities before joining the research staff at Feinberg and then the faculty of both the medical school and the School of Communication.
Logemann was a pioneer in the study of dysphagia, or swallowing disorders. Her research interests included the management of voice disorders, normal swallowing physiology, the assessment and treatment of speech and swallowing dysfunction in treated head and neck cancer patients and neurologically impaired individuals. Logemann developed the modified barium swallow test, a less stressful alternative to a typical radiographic study of swallowing that is now a standard diagnostic tool. One of her recent interests centered on compliance counseling for patients undergoing neck and throat surgery.
Logemann served as the department chair of the Roxelyn and Richard Pepper Department of Communication Sciences and Disorders for many years and taught in Northwestern's Dental School with a specialty in cleft palate. She was a fellow of the American Speech-Language-Hearing Association, of which she was also past president.
The funeral will take place Thursday, June 26, at Scott Funeral Home, 1100 Greenleaf Ave., Wilmette. Visitation begins at 10 a.m. and the service at 11 a.m. The interment will follow in Woodland Cemetery in Forest Park.
In lieu of flowers, donations may be made to the Communication Sciences and Disorders Research Group and mailed to Dr. David Lilienfeld, Treasurer, CSDRG, 13412 Pantera Road, San Diego, CA 92130-1022.