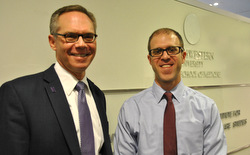 Northwestern Medicine scientists have published what is believed to be the most complete and up-to-date picture of racial/ethnic disparities in America's colorectal cancer screening rates.
The second leading cause of cancer-related death in the United States, colorectal cancer is expected to kill more than 50,000 people this year.
"Although previous studies have demonstrated these national disparities, it was often difficult to interpret their findings," said David Baker, MD, MPH, chief of Medicine-General Internal Medicine and Geriatrics and senior author of the study. "For example, Hispanic or Latino patients were frequently compared to a broad 'non-Hispanic' group comprised of a mix of whites and minorities."
In an attempt to refine those statistics, Dr. Baker and David Liss, PhD, MA '08, research assistant professor in Medicine-General Internal Medicine and Geriatrics, used data from the 2010 Behavioral Risk Factor Surveillance System (BRFSS) – a large, national survey of health risk behaviors, clinical preventive services and healthcare access. Their analysis assessed colorectal cancer screening in over 200,000 BRFSS respondents in seven racial/ethnic categories: whites, blacks/African Americans, Asians, Native Hawaiian/Pacific Islanders, American Indian/Alaska Natives, Hispanic-English speakers and Hispanic-Spanish speakers.
The findings were recently published in the American Journal of Preventive Medicine.
Among them, the screening rate for white's (62 percent) is more than double that of Spanish-speaking Hispanics (30.6 percent). After adjustment for socioeconomic factors and access to care, the screening rate for whites remained 24 percent greater than Hispanic-Spanish speakers, and 22 percent greater than Asians.
The disparity between whites and English-speaking Hispanics was much smaller. After using statistical models to adjust for differences in income, education and insurance, Hispanic-English speakers were only 6 percent less likely to be screened.
"The study also demonstrated that colonoscopy remains the dominant screening method in the U.S., despite a lack of evidence that it has any mortality benefit when compared to other forms of colorectal cancer screening," Liss said. "This surprising finding may be one reason for observed screening disparities, since racial/ethnic minorities are more likely to face barriers like the high cost of colonoscopy."
"Our findings suggest, however, than even if traditionally uninsured groups gain insurance coverage through the Affordable Care Act, disparities for groups such as Spanish-speaking Hispanics and Asians are likely to continue," said Dr. Baker, the Michael A. Gertz Professor of Medicine and a member of the Robert H. Lurie Comprehensive Cancer Center of Northwestern University.
To remedy screening disparities, Baker and Liss are conducting multiple studies to maximize colorectal cancer screening at Chicago-area federally qualified health centers. This research is being conducted through Northwestern's Center for Advancing Equity in Clinical Preventive Services, of which Dr. Baker is the principal investigator.
Dr. Baker stresses that, "Although racial/ethnic disparities in colorectal cancer screening will not be easy to eliminate, we are making important progress in identifying low-cost, practical solutions to tackling screening barriers in vulnerable populations."
The study was funded by the Agency for Healthcare Research and Quality (P01 HS021141).