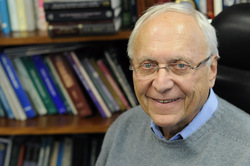 Robert D. Goldman, PhD, Stephen Walter Ranson Professor of Cell Biology and chair of Cell and Molecular Biology, was honored for outstanding scientific achievement by Charles University in Prague, Czech Republic, and was recognized for his work in the area of the molecular architecture of the cell's nucleus.
He received a medal at the Functional Organization of the Cell Symposium, where he gave the plenary lecture "New Insights into the Regulation and Function of the Nuclear Lamins." Ivan Raska, chairman of the Institute of Cellular Biology and Pathology at Charles University, nominated Goldman for the award not only for his achievements, but also for his continuous help to Czech science and scientists.
"Robert Goldman is without any doubt one of the most outstanding cell biologists in the United States," said Raska. "His laboratory has encouraged many others to consider working on the nucleoskeletal and cytoskeletal intermediate filament networks and he is constantly and generously supplying reagents to those interested in the study of intermediate filament proteins. Finally, and most importantly, he is always there to give advice and help colleagues in the Czech Republic."
Goldman's basic research on lamins – fibrous proteins that provide structural function and genetic regulation in the cell nucleus – over the past several decades has led to the discovery that they are critical factors in DNA replication, gene transcription, nuclear assembly and chromatin organization. His recent work has focused on the mutations of the lamins that give rise to diseases such as Hutchison Gilford Progeria Syndrome, which causes premature aging.