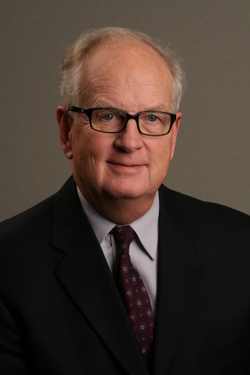 Anthony J. Schaeffer, MD '68, a distinguished physician-scientist at Northwestern University Feinberg School of Medicine, has announced he intends to step down as chair of the Department of Urology. Dr. Schaeffer will continue his role as a distinguished member of the faculty, and will continue to serve as chair until a new one is appointed.
During his nearly four decades at Feinberg, Dr. Schaeffer has played a prominent role in the field of urologic research, publishing extensively on urinary tract infection (UTI), inflammation and incontinence. Among his major contributions are several clinical techniques for both male and female incontinence, including an innovative urethral sling procedure. Along with colleagues, Dr. Schaeffer was the first to describe the systemic changes of bacteria binding that subsequently cause UTIs in women and developed a novel technique for patient-based management of them.
"Through his discoveries, Tony Schaeffer has had a major impact on how physicians and scientists approach urological issues, and his scientific accomplishments will undoubtedly be built upon with future breakthroughs made here and elsewhere," said Eric G. Neilson, MD, vice president for Medical Affairs and Lewis Landsberg Dean. "Feinberg can boast an enormously successful Department of Urology thanks to Tony; he leaves a superb legacy on which to grow."
After graduating from the medical school in 1968 and completing an internship at McGaw Medical Center, Dr. Schaeffer entered the United States Air Force for two years. He received his urologic training at Stanford University and returned to Feinberg as an assistant professor in 1976. He quickly established a research laboratory with National Institutes of Health (NIH) funding before becoming associate professor in 1982, professor in 1986 and chair in 1990.
"It has been a privilege to continue the legacy of this great department and work with and benefit from the counsel of outstanding faculty, residents and colleagues," said Dr. Schaeffer, the Herman L. Kretschmer Professor of Urology. "The diversity and talent of our department, along with collaborative interactions both within and outside the Northwestern community, have played a major role in our growth and development."
A longtime member of the American Urological Association (AUA), Dr. Schaeffer chaired the AUA's Research Council from 2003-10, served on the National Institute of Diabetes and Digestive and Kidney Diseases Advisory Council from 2006-10 and was associate editor for the Journal of Urology from 2004-12.
Among his numerous honors, he received a distinguished NIH MERIT Award in 1996, the AUA's Eugene Fuller Triennial Prostate Award in 2004, Distinguished Service Award in 2010 and Foundation Distinguished Scholar Alumni Award in 2011. This year he was bestowed Honorary Membership in the AUA, an accolade reserved for a select group of scientists who have achieved outstanding prominence in the field.
During his time as chair, the Department of Urology has established a diverse array of research areas, including inflammation, pain, the microbiome, angiogenesis, nanotechnology, urologic health and quality of life and cancer. The department has continually ranked in the top 10 in National Institutes of Health funding throughout the past decade, ascending to No. 3 in 2012.
"Our research has focused on discovering innovative solutions to both common and complex urologic diseases," said Dr. Schaeffer, a member of the Robert H. Lurie Comprehensive Cancer Center. "The success of our research has translated into significant improvements in the quality and duration of our patients' lives."
In 2008, Dr. Schaeffer was honored by a group of grateful patients, colleagues and friends as they established the Anthony J. Schaeffer, MD, Professorship in Urology. 
"For me, Tony has been a mentor, a partner and a friend. It's been a true privilege to work with him," said David Klumpp, PhD, who was invested as the Schaeffer Professor last summer. "I regard this award as both an immense honor and an important responsibility to, in part, uphold Dr. Schaeffer's legacy."
In 2013, Dr. Schaeffer led the department to No. 9 in the U.S. News and World Report specialty ranking, up from 18 one year prior. It's the highest ranking in the department's history.
Dr. Schaeffer has published more than 400 peer-reviewed articles and is currently a member of the NIH Multi-Site Collaborative Research Project on male chronic pelvic pain syndrome (prostatitis). He has maintained continuous NIH funding since 1978 and he contributes regularly to international panels to establish guidelines for management of UTIs.
"It has been an honor to serve and lead the department to the highest levels in education, research and patient care," said Dr. Schaeffer. "The department's future is very bright."
A national search will begin shortly to identify a new chair for the department.