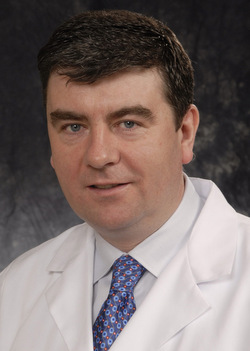 There aren't enough early phase clinical studies of new anti-cancer approaches in Chicago, forcing patients with hard-to-treat cancers to travel around the country hunting for them.
That's about to change.
Northwestern University has established a major new initiative – the Developmental Therapeutics Institute – with an initial $10 million investment that will bring many more phase 1, first-in-human, and early-phase clinical studies of new anti-cancer approaches to Chicago. This program also will develop much needed new therapies for cancer and other diseases based on Northwestern's preclinical and translational research by scientists on the Evanston and Chicago campuses. 
The institute is being launched by the Robert H. Lurie Comprehensive Cancer Center of Northwestern University.
Leading the new institute is Frank Giles, MD, an internationally known physician-scientist in the cancer developmental therapeutics field. Giles also is an attending physician with a focus on hematologic malignancies at Northwestern Memorial Hospital.
Giles will shepherd the promising therapies developed in Northwestern's own science labs – with their particular strengths, including nanoparticles – all the way to multi-site national or international clinical trials. He will bring more international collaboration to Northwestern with physician-scientists in other sites in Asia, Canada, and Europe with big commitments to developmental therapeutics and with whom Giles has established collaborations. He also will work more closely with pharmaceutical companies on Northwestern developmental therapeutics in both cancer and other diseases that share targets with cancer.
"We have all of this concentration of science here and we need to be focused on when this reaches a tipping point for developing a new therapy," Giles said.
The new institute will add ten to 20 new physicians plus a large group of research fellows over the next several years. One of its big missions is to train young scientists in drug development. The entire focus on the clinical side will be to treat patients in research studies. The clinic will open in July in Northwestern Memorial's Prentice Women's Hospital.
"One thing that struck me in my prior positions in a number of U.S. cities was the number of patients I saw from Chicago," Giles said. "It was quite disproportionately larger than from other metropolitan areas. These phase 1 trials are a service that's greatly needed in this community."
"The increase in novel therapies will offer our patients with hard-to-treat cancers important new options," said Steve Rosen, MD, director of the Lurie Cancer Center. "This adds to the remarkable advances in our understanding of cancer that now allow us to determine the most appropriate therapy for our patients using strategies that maximize benefit and minimize side effects."
Rosen also is the Genevieve E. Teuton Professor of Medicine at Northwestern University Feinberg School of Medicine and a physician at Northwestern Memorial Hospital.
Northwestern's strength in both preclinical research and clinical treatment makes it well positioned to take therapeutic candidates to large-scale trials, Giles said.
"There's a very good balance here in research and treatment," Giles said. "Most institutions are very heavy on one or the other. There are very few that are quite strong on both. This is one of them."   
While the institute's primary research focus will be on cancer, therapies often cross disease lines.
"Many of the pathways in cancer are applicable to cardiology or rheumatology; they're not confined to cancer," Giles said. For example, several years ago, scientists discovered a key target in a hematologic malignancy called myelofibrosis, and developed drugs to modulate that target. It turned out that the pathway in that cancer also is important in rheumatoid arthritis.
"Now we're having crosstalk with scientists who want to improve treatment in rheumatoid arthritis," Giles said. "A few years ago you would not have put those diseases together."
The weapons that are being used are no longer just traditional drugs, he noted. "We're using viruses, antibodies, stem cells and nanoparticles – a whole plethora of weapons," he said.
Increasing collaboration is essential to avoid duplication and because it's impossible for one institution to invest in all the technology simultaneously.
"You have to be very careful about the balance between healthy competition and unnecessary duplication," Giles said. "Competition for competition's sake is destructive. It involves a hesitancy to share information. I try to advise people, if they are seeking something or someone to compete with, try cancer. It's a competitor we can all agree on."
"I don't care whether the next idea comes from Frankfort or Tokyo," he said. "What I care about is how fast can I get it here."
Giles prefers multi-center studies because they protect researchers from inadvertent bias, provide heterogeneity that often gives clearer answers and move faster. 
Giles has led the development of novel drugs and immunotherapies. He previously ran the Institute for Drug Development, one of the larger phase one trial programs in the U.S., at the University of Texas Health Science Center in San Antonio and was deputy director of the cancer center there. He also was at M.D. Anderson Cancer Center for a decade and before that UCLA. Most recently he ran the HRB Clinical Research Facility at the National University of Ireland in Galway.   
The new institute represents several pillars of Northwestern's Strategic Plan by discovering new ways to treat disease in the biomedical sciences and translating those discoveries into ideas and products that make the world a better place for everyone.