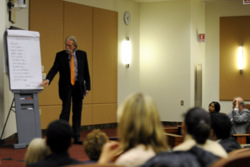 More than 100 faculty, students, and staff heard George D. Lundberg, MD, speak on health system reform on Tuesday, October 16, at the 17th Annual James E. & Bonnie L. Eckenhoff Lecture hosted by the Buehler Center on Aging, Health, and Society.
The Eckenhoff Lecture series was established in 1994 in honor of Dr. James E. and Bonnie L. Eckenhoff, who devoted their careers to serving the unique needs of older adults.
Eric G. Neilson, MD, vice president for Medical Affairs and the Lewis Landsberg Dean at Northwestern University Feinberg School of Medicine, introduced the speaker, "He is recognized internationally over many decades for his interest and work in tropical medicine and forensic medicine. He is regarded widely as an early pioneer in the medical Internet."
Lundberg, president and board of directors chair for the Lundberg Institute and a former professor of pathology at Feinberg, then came to the podium to give his presentation, entitled, "Rising Healthcare Costs: How to Bend the Cost Curve Downwards, Right Now."
After giving a general description of the current healthcare system, he spoke on consumer driven healthcare, the single payer system, and economic transparency for the patient.
"I believe patients should, if mentally competent, and in a non-emergency, non OR, and non ICU situation, be provided an opportunity for an informed and economic consent. Medical decisions are increasingly shared decisions, and a frank discussion about comparative costs and charges for the options, whether the payment comes from the insurance company, Medicare, Medicaid, or out of pocket from the patient – this conversation is usually missing, this should be present," said Lundberg, also a consulting professor at Stanford University and editor at large for MedPage Today from Everyday Health.
Lundberg then offered advice on small changes that can be made to reduce costs, such as informed consent.
"I am a pathologist. Until I became a medical editor, I made most of my money off of running laboratories, big laboratories, doing millions of tests. I learned that most laboratory tests and other diagnostic tests don't need to be done at all. The results are mostly normal, negative, or show no change from a prior test result. Laboratory results should not be ordered without a plan for how to use the information that is gained. I think there should be informed consent for doing lab and diagnostic tests."
Research Coordinator Caroline Taromino enjoyed the lecture and thought Lundgren gave a good perspective on the current state of healthcare.
"He offered some suggestions on where he thought healthcare needs to go," she said. "He took a step back and talked about a lot of the reasons why tests are being done and asked if they are really needed. He challenged the idea of automatically needing a test ordered when you go into a doctor's office. I think that was interesting and a good point."
Taromino also connected the quality control and end-of-life care research projects she works on at the Buehler Center with his lecture.
"The lecture added value to the research projects I am working on. It showed me that we do have to always keep in mind what we are doing in doctors' offices and hospitals and that we can keep challenging ourselves to make processes more efficient," she said.

The John & Gwen Smart Symposium followed the lecture, showcasing research and educational activities relevant to aging, patient safety, and other vulnerable populations.