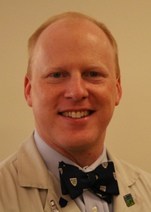 More than 8,000 years of life. 
That's the estimated annual benefit of proposed changes to the way donated kidneys get distributed in the United States. 
Led by John Friedewald, MD, associate professor in medicine-nephrology and surgery-organ transplantation, the committee charged with conducting a 360-degree review of kidney transplantation has suggested a set of changes meant to make the system more efficient and effective. 
"We decided that a small change in allocation differences would be worth the massive number of extra life years we could attain under the system," said Friedewald, committee chair. "By providing long-lived organs to long-lived recipients, we prevent returns to the wait list, and by preventing returns to the wait list we actually make more organs available for other candidates." 
More than 93,000 people are listed for kidney transplantation nationwide, and about 10 percent of candidates die each year while waiting. Because of the scarcity of kidneys – last year, 16,813 patients received transplants, 11,043 of them from deceased donors – part of the proposed changes attempt to match recipients according to the future function of the kidney. 
Central to the plan is the Kidney Donor Profile Index (KDPI), a new measure for better estimating the quality of kidneys recovered from deceased donors. When combined with the estimated post-transplant survival of the patient, the top 20 percent of kidneys, as measured by the KDPI, would be directed to those candidates expected to live the longest after transplant. 
That is likely to mean the highest-quality kidneys will go to the youngest patients, a departure from the current waitlist system, which by in large distributes kidneys based on when a person was added to the list. 
"Our biggest challenge is that there are not enough organs," Friedewald said. "Kidneys are a scarce resource and are extremely valuable. This means the allocation of donor organs will always be controversial. That's the reason we have ethicists and an ethics committee on our team." 
Striking a balance between utility and equity is something the committee has been wrangling with for the past eight years. 
The new proposal, issued by the United Network for Organ Sharing (UNOS), is open for public comment until Dec. 14. The committee will then consider revisions and make recommendations to the network, which could vote on the plan at a meeting in June. Nonprofit UNOS is the only organization to have ever managed the country's Organ Procurement and Transplantation Network (OPTN). 
Friedewald began volunteering on the OPTN/UNOS Kidney Transplantation Committee six years ago, becoming the regional representative, vice chair, and then, 16 months ago, chair. 
"There are a number of other members of the Feinberg community active in UNOS, and in general the medical school fosters an expectation of leadership," Friedewald said. "Part of the reason I do this work is because as a physician I am able to help individuals, but here I have the chance to improve the lives of tens of thousands of patients."