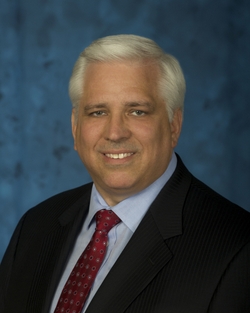 Stephen Ondra, MD, professor in neurological surgery, senior vice president, and chief medical officer at Northwestern Memorial Hospital (NMH), has been named interim chair of the Department of Neurological Surgery, effective August 22. 
Ondra, a faculty member for more than 16 years, also served as a senior policy advisor for healthcare in the Obama Administration at both the White House and in the Department of Veterans Affairs from May 2009 until February of this year. 
"We are excited to announce Dr. Ondra as interim chair of neurological surgery," said Eric G. Neilson, MD, Feinberg's vice president for medical affairs and Lewis Landsberg Dean. "His service to our nation is commendable, and his career in neurosurgery and health policy research exemplifies his leadership ability."
Ondra became a cadet at the U.S. Military Academy at West Point in the early '80s, but after sustaining injuries in a training accident, he completed pre-medical studies at Illinois Wesleyan University. Upon graduation he reentered military service in the army, while earning his doctorate at Rush Medical College. He completed his neurosurgery residency training at Walter Reed Army Medical Center in Washington, D.C., where he received specialized instruction in reconstructive spine surgery in both the neurosurgery and orthopedic specialties. 
Ondra was deployed to Saudi Arabia from 1990 to 1991 in support of Operations Desert Shield and Desert Storm. His service was recognized with a Bronze Star, Army Commendation Medal, and a Kuwait Liberation medal. Following his deployment, he was assigned to Walter Reed, the army's flagship medical center, and became the director of spine and skull-base surgery.  
After leaving military service in 1994, he joined the faculty at the University of Michigan. In 1996, he came to Feinberg, where he served as the residency program director, vice chair and director of spine surgery, director of the spinal deformity fellowship, director of spine research, and medical director of the neuro-spine intensive care units. In 2006, he was promoted to professor. 
"I am happy to have this opportunity to work in new ways with my medical colleagues in neurological surgery and across campus to advance our mission of outstanding clinical care, research, and education," Ondra said. "The combination of my appointment as interim chair and my positions at NMH will provide a unique opportunity to understand and contribute to the advancement and vision of Northwestern Medicine."   
Ondra is currently engaged in health policy research, investigating how to create care models that are centered on patient needs and how to increase the value of care through improved quality, safety, and efficiency. His clinical research is focused on activities involved in mathematical models that improve understanding of the diseases and treatment options for patients with complex spinal disorders and deformity of the spine.  
Ondra is a member of more than a dozen societies, including the American Association of Neurological Surgeons, the American Medical Association, and the Association of Military Surgeons. He was also the first neurological surgeon to be inducted into the Scoliosis Research Society.
As senior vice president and chief medical officer at NMH, Ondra leads the hospital on issues related to medical staff development, educational programming and patient care, and quality and safety, among other broader academic medical center priorities.