Researcher Steven Kosak Wins NIH 'New Innovator' Award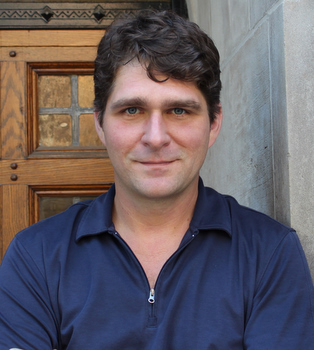 Steven Kosak, PhD, assistant professor in the Department of Cell and Molecular Biology, was recently named a recipient of the NIH New Innovator Award for his interest in innovative, risk-taking research.
Steven T. Kosak, PhD, assistant professor in the Department of Cell and Molecular Biology at Northwestern University Feinberg School of Medicine, was recently named a recipient of the National Institutes of Health (NIH) New Innovator Award – an innovative research program that offers funding to high-impact researchers with an interest in risk-taking innovation.
"I am honored to have received such an important award, as it allows me to perform the research of which I'm most passionate," says Kosak, who studies how the human genome is dynamically reorganized during the differentiation of stem cells to derived cell types. "I also feel validation for our ideas that are both new and somewhat controversial. The New Innovator Award is truly a career inspiration."
The award, supported by the Director's Award Program through the NIH Common Fund, is part of a $143.8 million effort to challenge the status quo with creative ideas that have the potential to propel fields forward and speed the translation of research into improved health for the American public.
"The NIH Director's Award programs reinvigorate the biomedical work force by providing unique opportunities to conduct research that is neither incremental nor conventional," says James M. Anderson, MD, PhD, director of the Division of Program Coordination, Planning and Strategic Initiatives, who guides the Common Fund's High-Risk Research program. "The awards are intended to catalyze giant leaps forward for any area of biomedical research, allowing investigators to go in entirely new directions."
Funding from the NIH New Innovator Award will allow Kosak, also a member of the Robert H. Lurie Comprehensive Cancer Center of Northwestern University, to test the hypothesis that the human genome is re-organized within the nuclei of stem cells during cellular differentiation due to the overall effect of coordinate gene expression. In addition, he will attempt to determine if this process is an example of a self-organizing system, in which the emergence of a structure (or behavior) both results from and subsequently supports a network of functional interactions.
"We are developing new experimental techniques and mathematical approaches to perform this work," says Kosak. "We anticipate that knowing the specific genomic topologies during normal cellular differentiation and in disease states will provide the basis for new diagnostic tools and therapeutic modalities."
Since inception, the NIH Director's Award Program has funded a total of 406 High-Risk Research awards: 111 Pioneer Awards since 2004, 216 New Innovator Awards since 2007, and 79 Transformative Research Projects Awards since 2009. This tally includes this year's 13 Pioneer Awards, 49 New Innovator Awards, and 17 Transformative Research Projects Awards. Click here for more information on the New Innovator Award, including information on this year's awardees.