Dr. Michael Abecassis to Lead New Transplant Center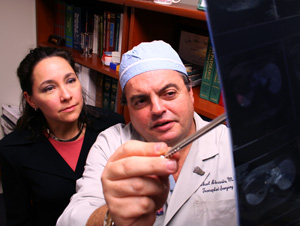 Dr. Michael Abecassis (right)
The Northwestern University Feinberg School of Medicine is pleased to announce the creation of its Comprehensive Transplant Center. The center will build on and extend Northwestern's considerable strengths in transplantation to further the role of our academic medical center as a national leader and innovator in this important and rapidly progressing area. The center will serve as an umbrella for, and catalyst to, a wide range of collaborative and multidisciplinary academic activities relating to the broad and expanding field of transplantation. The center will provide a framework of functional cores that will allow investigators and clinicians from a number of disciplines and scientific backgrounds to conduct high-impact research, educate surgeons, physicians, and scientists, and to ultimately define best clinical practices and inform public health policy on an array of transplant-related issues.
Northwestern has nationally prominent programs of outstanding quality in adult and pediatric kidney, liver, and intestinal transplantation, pancreas and islet cell transplantation, cardiothoracic transplantation, and leading-edge activities in stem cell transplantation. Surgeries are performed at Northwestern Memorial Hospital (NMH), a leader in transplantation services since 1964. In 2008 NMH transplant surgeons successfully completed a rare "four-way domino paired" kidney exchange. The surgery involved four kidney donors and four recipients who underwent simultaneous transplant surgery.
The center will facilitate collaborative opportunities by providing fertile ground for advancing the highest quality scientific, translational, and clinical research that will propel Northwestern beyond its local leadership and national presence to realize its potential as one of the elite centers for transplantation in the nation.
An advantage of the Comprehensive Transplant Center will be its ability to foster continued innovation through collaborative investigation and recruitment. Through an expansion of its existing core competencies, the center will focus on a broad range of novel and exciting areas of investigation essential to the advancement of the care of transplant patients everywhere. The Comprehensive Transplant Center will leverage its strengths in order to create new knowledge and lead the field forward. Facilities such as a state-of-the-art microvascular surgery laboratory allow transplants of all organs to be performed on small animals thus providing useful models in which to study transplant immunology. Also, its immune monitoring laboratory provides a window into the human immune system as it is manipulated to achieve tolerance in transplant recipients who have received concomitant kidney and donor-derived stem cell transplants. Current NIH-funded, transplant-related research in immunobiology and immunosuppression, immune tolerance, and infectious disease provides a strong platform on which innovative new projects can be built.
This research is complemented by the newly formed transplant outcomes research collaborative. These important cores will foster interdisciplinary academic investigation spanning the entire spectrum of transplantation science. In addition, the center will indentify new areas for collaboration by reaching out to existing programs. We have recently formed, in collaboration with the plastic and reconstructive surgeons, a composite tissue allograft program that proposes to transplant human soft tissue composite tissues such as the face, the abdominal wall, and limbs. Northwestern is a leading institution in regenerative medicine and nanotechnology and therefore well-positioned to lead in the development of bioengineered tissues and organs. Likewise, ongoing investments in informatics and other aspects of clinical trials, and significant expertise in areas such as bioethics, health services, and outcomes research make this an opportune time to develop this center.
One of the most important roles of a great academic medical center is the education and training of the next generation of physicians, surgeons, and scientists, especially of those who will in turn become thought leaders in their fields. The Comprehensive Transplant Center currently includes approved advanced fellowships in transplantation surgery, transplant nephrology, and transplant hepatology. Plans are in place to establish a fellowship in transplant infectious diseases. There is also an NIH-funded Transplant Scientist Training Program for both basic and clinical outcomes research. These fellowships reflect the high quality of our programs and recognize our commitment and ability to provide an outstanding educational environment. A fundamental mission of the center will be to use the excellent clinical and research programs, facilities, and faculty at Northwestern to become the most desirable training program in transplantation.
The Comprehensive Transplant Center will be led by Michael M. Abecassis, MD, MBA, J. Roscoe Miller Distinguished Professor, professor of surgery and microbiology-immunology, and dean for clinical affairs at the Feinberg School of Medicine. Dr. Abecassis is also chief of organ transplantation and medical director of the kidney and liver transplant program at Northwestern Memorial Hospital. The formation of the center is the latest example of a strategic investment that builds on our current strengths and collaborative culture to drive and foster the transformation of an important area of patient care and public health and, in the process, accelerates Northwestern's recognition as a great academic medical center.