NUvention: Medical Innovation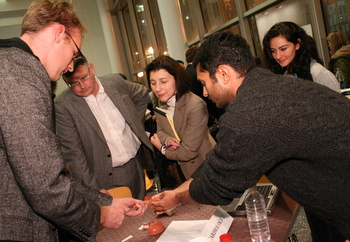 A team of NUvention: Medical Innovation students present their idea to venture capitalists and executives from large healthcare companies.
A unique two-quarter course, NUvention: Medical Innovation

joins graduate students from Northwestern University's Chicago and Evanston campuses to collaborate on the creation of new medical technologies. The interdisciplinary program breaks students into seven teams comprised of three fourth-year medical students from the Feinberg School of Medicine, as well as two students from each of the following schools: the Kellogg School of Management, Robert R. McCormick School of Engineering and Applied Science, and the School of Law.
"NUvention promotes innovation and collaboration across Northwestern and beyond," says Dave Johnson, PhD, associate dean of research operations at Feinberg and director of the program. "Students who take this course are entrepreneurial problem-solvers who are looking to use their varied skill sets to impact human health."
To kickoff the course in September, teams choose specialty areas such as neurology or cardiology, and shadow Feinberg clinical faculty for one month in order to brainstorm a list of 25 medical needs. Students work together to narrow this list based on criteria such as market need, production feasibility, and patent availability. Each team then chooses one idea to develop into a workable prototype.
"Along the way, students share their ideas with key opinion leaders; they must convince the experts that their concepts are worth producing," says Johnson.
Teams split their time between campuses, meeting formally on Wednesday evenings to cover topics vital to the process of medical innovation. Designed by faculty directors from each school, the weekly classes feature case studies, lectures, or guest speakers from the industry.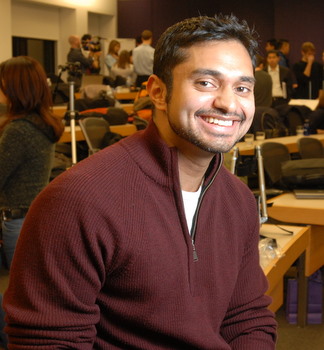 Feinberg alum Swami Gnanashanmugam, MD '08, now a cardiac surgery resident at McGaw Medical Center of Northwestern University, helped found NUvention: Medical Innovation at Northwestern.

The course is largely supported by gifts from a range of major medical device companies. Representatives from these corporations comprise the majority of the NUvention Advisory Board, which convenes at Northwestern on two occasions during the class. In November, the students offer a sneak peak to members of the Board, who offer constructive criticism, call attention to potential regulatory issues, and provide teams with a real-world perspective. At the end of the course in March, each team presents their business plan, with the Board playing the role of potential investors.
While Johnson insists that the course is first and foremost an academic experience, students are not discouraged from advancing their ideas. In several cases, NUvention companies have retained a life outside the classroom, with previous teams continuing to work on such innovations as improvements in implantable electrical stimulation devices and novel surgical instrumentation.
"Our students look at medical needs with a fresh set of eyes and present inventive solutions. But, NUvention is more than a professional experience. Students form strong friendships with students who study different disciplines. It's very exciting to see," says Johnson.
The Future of NUvention
Marc Lim, BS '08, took a year off between his second- and third-years of medical school to act as the program's first full-time NUvention: Medical Innovation fellow — a prototype for the future of the program, says Johnson. Lim serves as the teaching assistant and mentor for the current class. He also assists in the development of a new set of curriculum that expands the team-based program from a six-month course to a 12-month, full-time fellowship, allowing students to fully immerse in the process.
"I'm helping to build the fellowship by living it," says Lim. "The course currently offers students all the tools necessary to start a medical device company. I hope to advance the program and make it even more valuable to future generations."
An Honors Program in Medical Education student, Lim had the rare opportunity to participate in the course back in 2007 while earning his undergraduate degree in biomedical engineering. His team conceptualized ergonomic surgical instruments. After graduation, he joined a separate start-up company, Zone Medical, focused on finding new approaches to pain management.
"Each year, new problems are addressed, reminding me that medicine is not perfect," says Lim. "I am committed to this program because of the unique opportunity it offers Northwestern students ― the chance to increase the number of patients they may positively influence in their lifetime through a medical device."
Johnson notes that NUvention: Medical Education will soon accept applications for the 2011-12 academic year, which will continue as a six-month course. He expects this year's selection process to be as competitive as past years.
"I am continuously impressed by the independence and motivation of Northwestern students," says Johnson. "These qualities are key, as our program connects students to members of the corporate sector ― people who take their concepts very seriously."