APAMSA Student Group Hosts Conference, Draws Attention
to Asian-American Health Disparities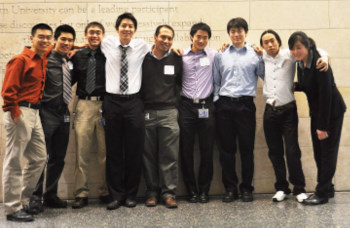 Members of Feinberg's Asian Pacific American Medical Student Association (APAMSA) led the planning of the sixth annual APAMSA Midwest Regional Conference, hosted on Northwestern's Chicago campus on February 26.
Hepatitis B, a disease which infects the liver, affects 1.4 million people in the United States. Asian-Americans comprise 50 percent of this group, yet statistics show that less than one percent of federally-funded grants concentrate on health research related to this population. The Asian Pacific American Medical Student Association (APAMSA) hosted a conference on February 26 at Northwestern University Feinberg School of Medicine to call attention to this and other health disparities faced by the Asian-American community.
More than 35 medical students from across the Midwest attended the sixth annual APAMSA Midwest Regional Conference, entitled "Speak Up: Building the Voices for Tomorrow's Community Health Leaders." Speakers focused on their work in the Asian communities around Chicago and how future leaders could play a part. Feinberg alum Dan Vicencio, MD '92, GME '95, medical director for Mercy Family Health Center, offered the keynote address, "Cultivating Leadership among Asian American Medical Students."
"The goal of the conference was to inspire students to think about how they may care for patients in Asian communities more effectively," said first-year Feinberg medical student and APAMSA co-president Stephanie Ha, BA '09, who led the planning of the conference.
During a lunch session, Mark Loafman, MD, MPH, assistant professor in the Department of Family and Community Medicine, and Toshiko Uchida, MD, assistant professor in the Division of General Internal Medicine, shared their experiences and offered career advice to student attendees from Feinberg, Rush Medical College, University of Chicago Pritzker School of Medicine, Chicago Medical School, Washington University School of Medicine, and Saint Louis University School of Medicine.
Ron Li, BA '09, a second-year medical student, joined Ha and several others in coordinating the educational conference. For Li, one of the most powerful themes of the event explored the question of how Asian-Americans can push positive social change forward.
"During the conference, we engaged in discussions about racism, defined the cultural identities of Asian- Americans, and outlined student-driven projects that serve to build a collective voice for Asian-Americans on the medical school campus," says Li.
The conference also offered Li and first-year students John Zuleta and Alfred Chung a platform to introduce a new model for educating and empowering students working in Asian communities — one that ensures the sustainability of their efforts. Dubbed the Feinberg Asian Health Student Group Coalition, the initiative assembles a task force of representatives from student organizations, including the China Town Clinic, Hep B Alliance, Devon Clinic, Medical Chinese, and APAMSA. The group plans to develop a speaker series addressing key Asian-American issues, as well as create a communications strategy to help keep the knowledge acquired top-of-mind.
"The coalition focuses on education, empowerment, and impact — leaving a lasting impression on the communities we serve," says Li. "We hope this database of information transcends generations of Feinberg students and benefits groups here and across the country."